Peugeot unveils the world's smallest dealership. Inside a phone box...
Published 06 September 2017
In a move that's as bewildering as it is novel, Peugeot has unveiled a new dealership. And it's inside a red telephone box.
Once a common site across the country, the classic red phone box is somewhat defunct in the modern world. But many have been given a second life, increasingly being transformed into libraries, defibrillator units and even miniature pubs.
Measuring a meagre 0.8 square metres, it's claimed to be the world's smallest dealership. It might not be as exciting as the Tardis, but it looks just as out of place in a bustling, urban landscape as a police phonebox from the 1960s would.
Customers can gain access to the diminutive dealership by getting a special code here. Called Peugeot Russell Square, the tiny dealership will open on 12 September 2017 and potential customers can browse a miniature forecourt in the form of 1:64 scale model cars. 
While it might look a bit like a Japanese capsule hotel or a glimpse into a dystopian future - the dealership has been kitted out with WiFi and an iPad so buyers can configure a vehicle, look at finance plans and even book a delivery date. And all without needing a 20p coin...
The phonebox dealership was launched to celebrate the freedom and flexibility consumers now have when buying a new car. It will be open between 7am and midnight every day until the end of September.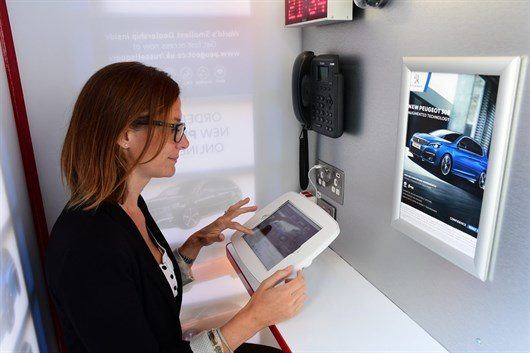 Comments
Author

Georgia Petrie
Latest