15 years of Skoda vRS models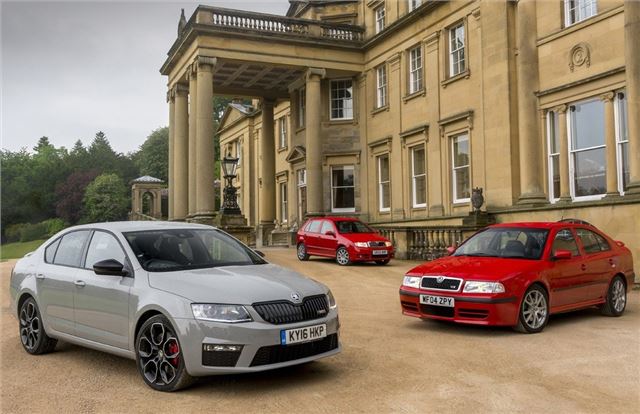 Since Skoda became part of the Volkswagen Group 25 years ago, the Czech firm has focussed on building good quality cars that are value for money. In the early days the brand had to shake off its unwanted image for poor reliability – excitement and performance came way down the list of priorities.
But that all changed in 2001 with the launch of the Skoda Octavia vRS – a performance version powered by the 1.8 turbocharged engine from the Volkswagen Golf GTI complete with 180PS and a 0-62mph time of less than 8.0 seconds. The vRS model easily stood out from the standard Octavia with subtle extras such as chunkier bumpers, a rear tailgate spoiler, chrome exhausts and unique alloy wheels.
Two years later the Fabia vRS was launched and this was the model that truly propelled the vRS name. Powered by a diesel engine rather than the traditional petrol, the critics mocked it at first, but once they'd driven it, the Fabia vRS quickly became renowned as one of the best hot hatches around.
The vRS name is unique to the UK. The cars are badged RS in mainland Europe, but copyright issues meant that couldn't happen here. Performance models as part of the Skoda family date back to the Popular Sport, launched in the 1930s. But in the modern era, the RS name – for 'Racing Sport' – dates back to the 130 RS from the mid-1970s.
Last year saw the launch of the fastest ever production Skoda - the Octavia vRS 230. It not only adds a further 10PS over the standard vRS but also gets a new electromechanical front locking differential. Acceleration from 0-62mph takes 6.7 seconds plus you can get some snazzy 230 stickers down the side.
And if proof were needed that vRS models have made their mark, a modified production Octavia vRS hatch, prepared by Skoda UK, smashed the previous record for a 2.0-litre forced induction production car when it registered an official record speed of 227.080mph at the 2011 Bonneville Speed Week. The previous record was 216 mph, set in August 1998.
So we're celebrating 15 years of the vRS badge with this special feature. We've brought together the key vRS models over the years from the original Octavia vRS hatchback to the latest special vRS 230 and everything inbetween. Enjoy!
vRS models in detail
Click on a model for more 








Comments