Volkswagen faces huge fines in the US amid claims of manipulating diesel emission tests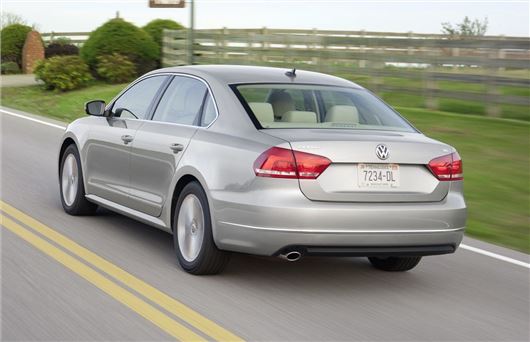 Published 21 September 2015
Volkswagen has been ordered by a US government body to recall almost half a million cars amid claims that the firm has used sophisticated software to manipulate emissions tests.
The Environmental Protection Agency (EPA) alleges that four-cylinder diesel engines manufacturered by Volkswagen and Audi emit up to 40 times more pollution than they officially state.
The cars - produced from 2008 - use a 'defeat device' to detect when it is undergoing an official emissions test to turn on full emissions controls, improving the cars' NOx emissions. NOx is linked to smog, ashtma attacks and other respiratory diseases.
As a result, Volkswagen could be fined up to $37,500 for every car sold and has suspended sales of affected models.
"Using a defeat device in cars to evade clean air standards is illegal and a threat to public health," said Cynthia Giles, Assistant Administrator for the Office of Enforcement and Compliance Assurance. "Working closely with the California Air Resources Board, EPA is committed to making sure that all automakers play by the same rules. EPA will continue to investigate these very serious matters."
"Working with US EPA we are taking this important step to protect public health thanks to the dogged investigations by our laboratory scientists and staff," said Air Resources Board Executive Officer Richard Corey. "Our goal now is to ensure that the affected cars are brought into compliance, to dig more deeply into the extent and implications of Volkswagen's efforts to cheat on clean air rules, and to take appropriate further action."
The CEO of Volkswagen AG, Dr. Martin Winterkorn responded in a statement by saying: " I personally am deeply sorry that we have broken the trust of our customers and the public. We will cooperate fully with the responsible agencies, with transparency and urgency, to clearly, openly, and completely establish all of the facts of this case. Volkswagen has ordered an external investigation of this matter. We do not and will not tolerate violations of any kind of our internal rules or of the law."
Affected diesel models include:
Jetta (Model Years 2009 – 2015)

Beetle (Model Years 2009 – 2015)

Audi A3 (Model Years 2009 – 2015)

Golf (Model Years 2009 – 2015)

Passat (Model Years 2014-2015)
At this stage it is unclear whether European tests have been similarly manipulated or whether other manufacturers are using a 'defeat device'.
Comments
Author

Dan Harrison
Latest