Lexus launches groundbreaking RC F racing experience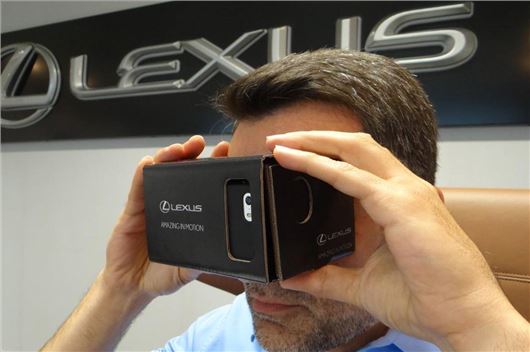 Published 22 June 2015
Lexus has become the first car company to utilise emerging virtual reality software to create an immersive digital racing experience.
The new app works with the Oculus Rift headset and the Google Cardboard viewer, and can be viewed with YouTube's VR streaming function.
Users can download the footage and, as Lexus puts it, experience "the thrill of sitting in on a high-speed chase around the world famous Ascari race track," all in an RC F Coupe.
Filmed using a host of HD cameras placed both inside and outside the RC F, the result is a true 360 degree view of the chase, which users can experience using a compatible headset. Lexus has worked with Google to launch a branded version of its innovative and inexpensive Cardboard headset, pictured, which it says will be available shortly.  
Available now as a smartphone app for iOS or Android, the RC F VR experience is the first of many experiences planned by the Japanese company.
"At Lexus we are determined to push the boundaries in everything we do, whether that's in the design of our cars or the way we market our products to customers. For the RC F we have created an amazing virtual reality experience that can be enjoyed and shared by anyone, anywhere – without the traditional hardware limitations. The combination of realism, multi-platform availability and YouTube 360-degree video streaming makes it truly a world first," enthused Spiros Fotinos, Lexus Europe's Head of Marketing.
Comments
Author

Mark Nichol
Latest