The First Winter Tyre Rated A for Wet Grip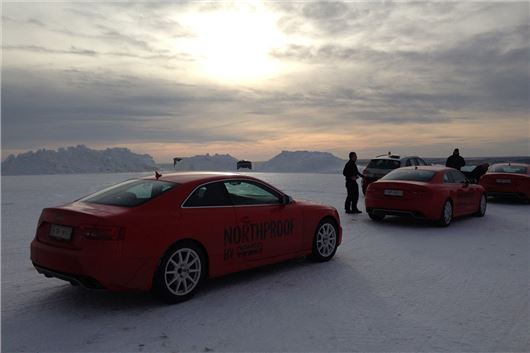 Published 14 March 2015
Based in the Arctic Circle, where the temperature can vary by 40C in a single day, Nokian has been making winter tyres since 1934.
So they know about snow.
But in less snowbound parts of the world the wet grip of a tyre in low temperatures is even more important than its grip on the white stuff.
And this is why Nokian has been improving its best winter tyre to disperse water and slush more rapidly, and in doing so make its winter tyre a more appropriate fit for the parts of Europe where rain is more of a problem than snow.
How they did this is by a mixture of tread pattern, compound, construction and siping (which are jagged cuts in the tread blocks).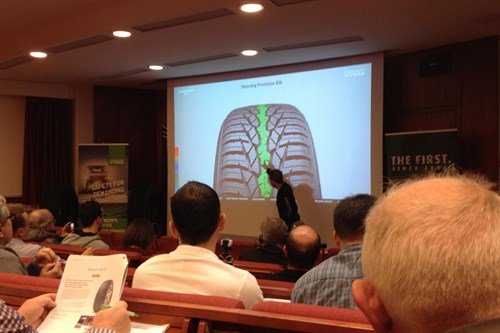 The Nokian WRD4 (that replaces the WDR3) has a central siped unbroken band of tread for steering precision. Outside that, angled tread blocks with sipes that alternately squeeze out water either side of the blocks are designed for optimal performance on snow. And outside them the shoulder blocks, hollow 'pump sipes' and polished grooves are optimised for maximum dispersal of low temperature water and slush, helping to prevent aquaplaning (which is when a tyre 'floats' on standing water leading to loss of control).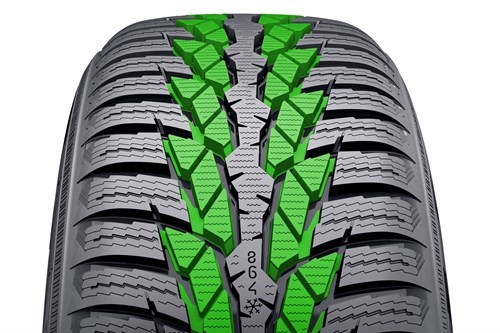 Depending on size, Nokian WRD4s achieve an A or B wet grip rating in the EC tyre labelling system and a B or C for rolling resistance and consequent fuel efficiency.
The tyre material is three different compounds, all high 'twin trac' silica and high in natural rubber rather than synthetic rubber.
The tyre construction involves three seamless nylon belts, reinforced at the shoulders, a different type of beading at the rim and silent sidewall technology that, together with the tread pattern on the shoulders, helps it to achieve a quiet 69dB noise rating despite an XL load rating, which is the highest available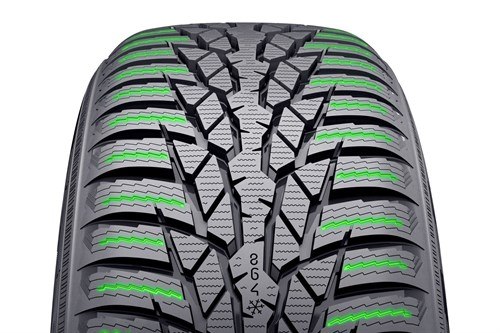 Nokian even moulds pressure markers on the sidewalls that can be fitted next to the valves and an inbuilt depth measure on the centre tread showing when the tyre has worn from an original tread depth of 8mm, through 6mm down to 4mm when, for winter use, Nokian recommends replacement. Nokian also, sensibly, recommends front to rear rotation every 5,000 miles to even out tread wear (which is particularly important with 4WD cars).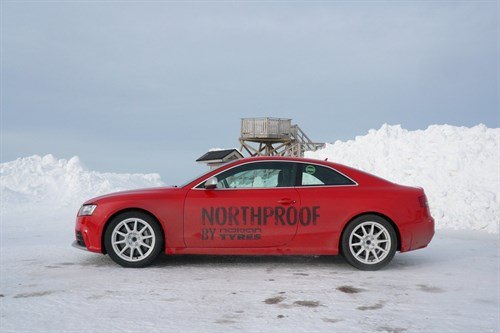 To check all this out we drove a WRD4 equipped 450PS/430Nm torque Audi RS5 with the ESC off at up to 80mph on a mixture of dry roads, hard-packed snow and slush. Obviously, it was possible to break traction by flooring it but, driven sensibly, the tyres gave an excellent feeling of security on all of these surfaces.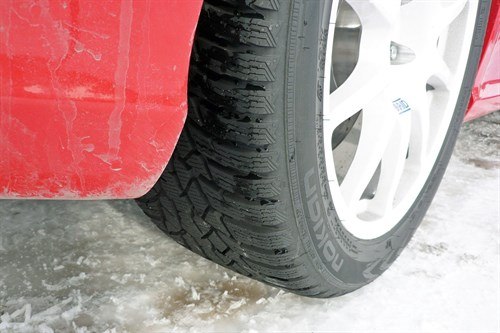 Nokian WRD4s are available in sizes from 14" to 20", speed ratings from Q (160kmh) to W (270kmh) and even as runflats in 205/60 R16 92H and 195/55 R16 87H for BMWs.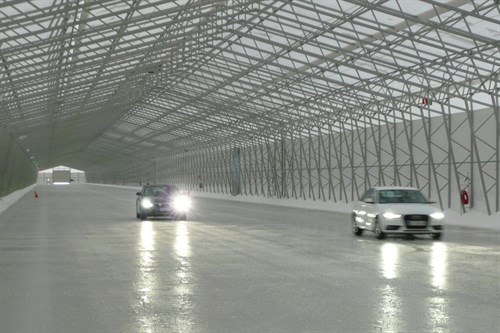 Finally, to demonstrate the ice braking benefits of its tyres Nokian staged a brake test on its half kilometre indoor ice drag strip. From 60kmh, the Nokian winter tyre equipped car stopped 115 metres shorter than an identical car equipped with American All Weather tyres.
Video Link: Nokian ice braking test.
But Nokian freely admits that while most 'All Weather' tyres lack the winter performance of its WDR4s, there is a demand in central and southern Europe for tyres that can perform well in winter but can also be left on the car all year round.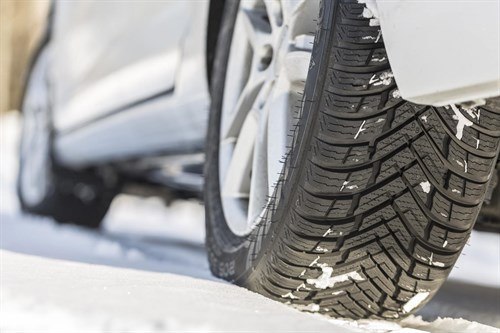 So it has developed its 'Weatherproof' tyre.
Unlike Michelin's Cross Climate, this is a winter tyre redesigned to perform well in summer rather than a summer tyre that works well in winter.
A lot of the development and construction follows that of the WRD4, but with some essential differences to make it more suitable for use in higher temperatures.
It has a 'slush planing', self-cleaning tread with polished grooves, but no central band, and the pump sipes are not cut through at the ends.
The compound is all silica with no carbon black and the tyres have a projected life as good as Nokian's 'Line' summer tyres (15% better than WRD4s)
Like the WRD4, Weatherproof achieves an A rating for wet grip, B or C ratings for rolling resistance/fuel economy and a low noise rating of 68-69dB.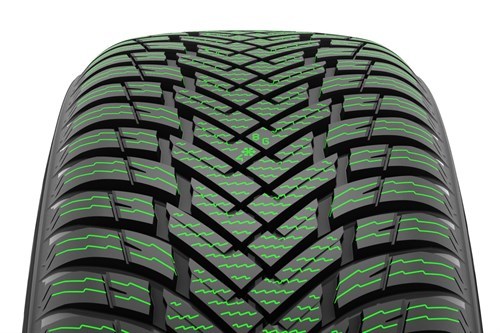 Nokian Weatherproof tyres will be available from the autumn in sizes from 175/70 R13 82T to 225/40R18 92V XL for cars and 225/70 R16 107H XL to 235/60 R18 107V XL for SUVs. There will also be a range of Weatherprrofs for LCVs in sizes 14" to 16" and speed ratings N, R and T. The optimum temperature range is -10C to +35C. All sizes have the 3PMSF snowflake symbol indicating they are approved where winter tyres are compulsory.
Video Link: Driving Nokian WRD4 tyres
Video Link: Ice Driving, Nokian Studded Tyres
More at www.nokinantyres.com
The UK Distributor for Nokian Tyres is www.nordiccartyres.com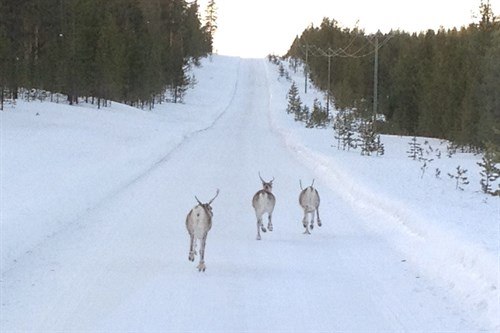 Comments
Author

Honest John
Latest