UK car production hits a six-year high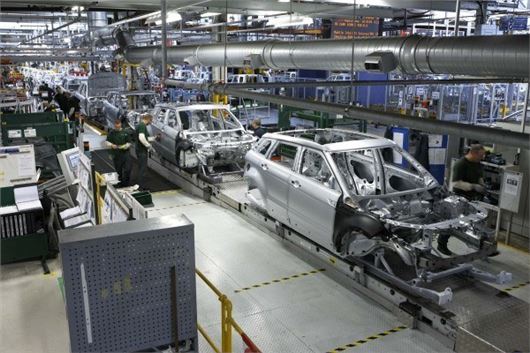 Published 23 January 2014
The Society of Motor Manufacturers and Traders (SMMT) has confirmed that car production in the UK rose 3.1% during 2013 to surpass 1.5 million units – the highest volume since 2007. The increase in production has been on the back of increasing exports as well as a growing domestic market.
The British car industry is enjoying the benefits of rapidly-growing cash-rich markets in the Middle East and China for its luxury cars, as epitomised by the model line-up from Jaguar Land Rover, Bentley, Aston Martin and Rolls-Royce. But the UK's largest manufacturer, Nissan, is also expanding rapidly, pushing exports of its recently-replaced Qashqai, as well as introducing a wider model range from its Washington factory.
Car factories are recruiting for new employees across the board, while Jaguar Land Rover is investing heavily in its new factory near Wolverhampton, as well as actively seeking a huge number of apprentices and degree-level engineers. MINI, also has made huge investments in its Oxford and Hams Hall factories, anticipating further growth in the coming years.
Interestingly, China's share of exports of British cars has grown rapidly over recent years, and the country now looks set to become the largest non-EU market for UK-built cars. Take-up in the USA also remained strong in 2013, and while Russia has seen volumes fall since 2012, it is now firmly established as a key export destination for British luxury cars.
Even more interestingly, SMMT is also predicting continued growth, predicting that more than 2,000,000 cars will be built in the UK by 2017, overtaking our best year in 1972, when we made 1.92 million cars. This will also place the UK as the third largest car making nation in the European Union.
Mike Hawes, SMMT Chief Executive, said: '2013 demonstrated the value of the UK's diverse car manufacturing industry, as surging home demand and robust exports outside Europe saw output grow 3.1% to over 1.5 million units. UK automotive investment announcements exceeded £2.5 billion in 2013, reinforcing industry analysts' suggestions that the UK could break all-time car output records within the next four years.'
In addition to 1,509,762 cars, Britain built 87,671 Commercial Vehicles in 2013, and 2,553,316 engines.
Comments
Author

Keith Adams
Latest