Product Claims to Keep Diesel Particulate Filters Clear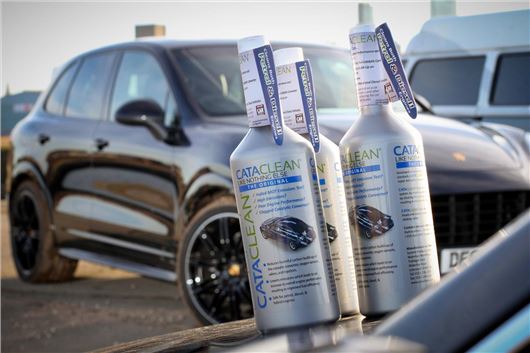 Published 19 December 2013
The makers claim that adding Cataclean to a diesel vehicle's fuel quarterly will help prevent Diesel Particulate Filter blockages and failures.
Cataclean Global Ltd, Corporate Development Director, Graham Fraser said "Cataclean can can reduce soot emissions by 60%, which actively assists the DPF to regenerate, reducing risk of it becoming clogged. Cataclean should preferably be used as a preventative treatment. We recommend Cataclean be used 3 – 4 times per year".
"Cataclean has other benefits. Primarily reducing emissions, it can also improve fuel efficiency and performance."
The makers state that Cataclean is safe to use in all Diesel, Petrol and Hybrid vehicles and comes in an easy to use 475ml bottle designed to pour into a fuel tank. It can be bought at all good motor factors including Euro Car Parts, Culmac (in North West region) GSF, Jim Barrow (in North West region), CES (UK) Ltd, Andrew Page as well as Halfords stores and Halfords autocentres.
For optimum use Cataclean should be applied to a quarter-full tank. The car engine should be run for around 20 minutes. The car can be stationary for this, ie in a garage.
More at www.cataclean.com 
DPF FACT FILE
Current diesel cars are now fitted with a diesel particulate filter (DPF) as part of European rules which came into force four years ago.
Any diesel motor produced from January 2011 will be fitted with a DPF.
DPFs work as a filter to trap soot and harmful particulates in the exhaust, reducing emissions by 80 per cent.
Many motorists with modern diesel cars are finding their DPFs need replacing quicker than they thought, typically resulting in a four-figure bill.
Diesel cars most affected are those which spend their time in congested, urban areas. DPFs have a self-cleansing process built into the software of the car, so after a long journey, or on a motorway drive, they are meant to regenerate and re-cleanse. However, if the car spends a lot of time performing short journeys, the DPFs can become clogged because the regeneration process does not have time to initiate.
It is illegal to remove a DPF from a car originally fitteds with one, and this will be checked as part of the MoT from February 2014.
Comments
Author

Honest John
Latest