Dashcam Saves Trucker From Expensive Insurance Claim
Published 17 December 2013
A SmartWitness dashboard mounted camera recorded the moment a Honda Civic sideswiped an HGV and was then pushed sideways 100 metres along the M25.
The video at the bottom of the page shows the incident as it happened.
It conclusively proved that the collision was wholly caused by the car driver and shows the skill of the HGV driver in keeping the car stable and preventing a far worse crash.
The driver could have been facing at an expensive insurance claim from the Honda Civic's driver cooked up by parasitic crash damage compensation specialists.
But thankfully, a Smart Witness camera had been fitted to the lorry's dashboard, and the footage, pinpointed by GPS, conclusively proved beyond any doubt that the car driver was wholly to blame.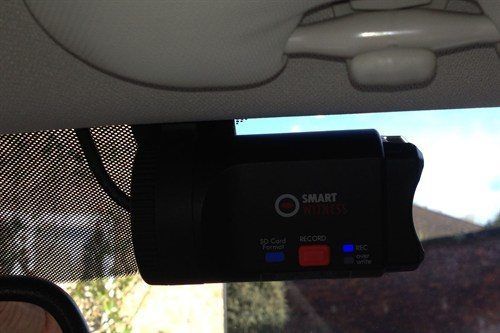 Gary Humphreys, Group Underwriting Director for Markerstudy Group, said: "These cameras are a cheap and effective device to help innocent motorists and we expect they will become more commonplace.

"Camera technology adds a visual element in helping insurers decide fault in the event of an accident, as well as providing individuals with evidence following road rage incidents or dangerous driving.
"We have had claims for incidents on roundabouts and over lane discipline where the camera has proved vital in determining liability and has enabled us to avoid long drawn out disputes."

He added that having a camera fitted can reduce premiums by up to 20 per cent.

This new video, released by Smart Witness, shows the vital role of the camera.

Smart Witness, managing director Simon Marsh, said: "Drivers worry that blame will always be attached to them when they hit another vehicle from the rear, particularly when there are no reliable witnesses.
"In this case, the lorry driver was very relieved his Smart Witness camera meant he could quickly prove the crash was not his fault.

"This latest video shows the risk which all motorists face on a daily basis and how efficient a Smart Witness camera is at revealing the truth.

"Thankfully in this case, no insurance claim was filed against the HGV driver, but who knows what could have happened if the camera had not been there."

Smart Witness systems have saved insurers £20million by providing evidence against fake whiplash and personal injury claims.
Figures released by the insurance industry earlier this year showed up to 60 per cent of the 550,000 whiplash claims filed each year were bogus. Experts said claims had soared because people were 'motivated' by the
ease of claiming in financially tough times.

Mr Humphreys added the cameras help protect drivers against the scams
which have now become a £1 billion industry.

He said: "The cameras can help protect drivers against 'cash for crash' scenarios. This includes deliberate severe braking in front of a driver to instigate a 'slam on' and subsequent whiplash injury claims.

"They can also guard against 'flash for cash' claims where a driver flashes to let another out of a junction and then crashes into them on purpose."

The cameras fit onto the dashboard or windscreen and are powered from the car's 12v accessory socket or can be directly wired in. They record the driver's view of the road ahead and also monitor the car's location, speed, braking and impact G-forces.

Smart Witness prices start at £149 for the standard model, rising  to £239 for the professional edition used by the lorry driver in this incident. The system is recommended by major insurers for hauliers, fleet managers and private motorists. It is officially approved by Transport for London.
More at Smart Witness 
Comments
Author

Honest John
Latest