Video: Alfa Romeo 4C sets new Nürburgring record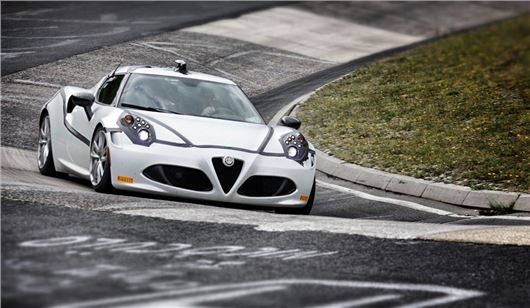 Published 18 October 2013
The Alfa Romeo 4C has set a new lap record at Nürburgring, with a time of eight minutes four seconds on the legendary Nordschleife circuit. The lap time makes the 4C the record holder for engines producing less than 250PS, beating the likes of the BMW M3 and RenaultSport Megane 265 Trophy.
The record was set by German journalist - and Nürburgring specialist - Horst von Saurma on 12 September with Pirelli Zero Trofeo tyres, which will be an option on the production car in either 17-inch (front) and 18-inch (rear) or 18-inch front and 19-inch rear,
Nicknamed 'Green Hell', the Nordschleife is notorious for its challenging configuration of slow and fast curves, as well as straight stretches and undulations.
The £45,000 4C will go on sale in the UK in the next few weeks, powered by a four-cylinder 1750 turbocharged petrol engine, with 243PS with 350Nm or torque. Capable of reaching 160mpg, the Alfa can cover 0-62mph in 4.5 seconds and return a claimed 42mpg on the combined cycle.
However, you don't have to wait until the end of the month to see the 4C in action because we've got footage of its record lap. Click the video below and turn up your speakers to enjoy the racing Alfa in full. 
Comments
Author

Dan Powell
Latest