Best and worst: Car manufacturer websites
If you're searching for a new or used car then you'll eventually end up on a car manufacturer's website and depending on which manufacturer it is you'll find it a smooth, easy experience or a huge pain. Industry experts at Auto Retail Network have analysed all of the leading car maker websites and scored them based on usability, functionality and compatibility.
We've checked through the report to find the highest and lowest rated manufacturer websites according to the report. Scores are a percentage base on totting up ratings for various criteria, including phone and tablet compatibility, first impressions and systems for booking test drives and services, or for viewing new and used cars. Click through the gallery below to see the top five and the bottom five.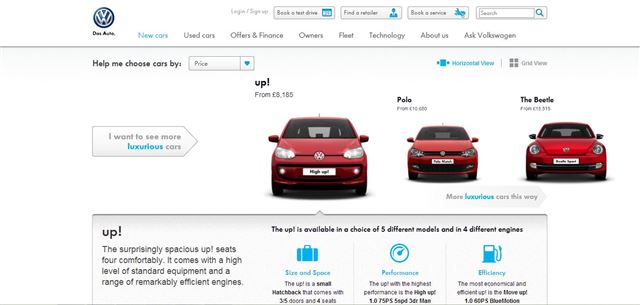 1


Volkswagen – 92%
Volkswagen came out at the very top of the Auto Retail Network (ARN) report. The site was praised for its engaging layout and its user-friendliness, along with its tablet and Smartphone compatibility. Praise was also given for the way data was collected – visitors to the site aren't required to fill in personal details at every opportunity. However the ARN report does point out flaws, including a "dull used car enquiry" section. 
Comments