Quick History of the VW Camper Van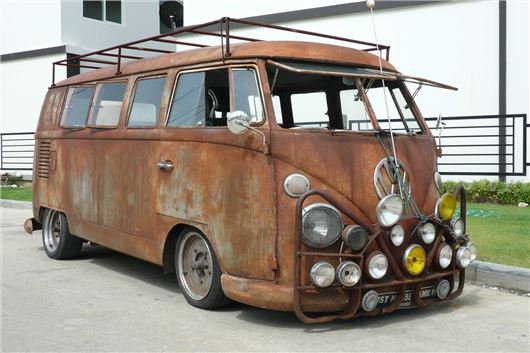 Published 26 September 2013
Production of the Volkswagen T2 'Bay Window' camper in Brazil ends later this year, but Volkswagen would like to assure surfers and VW Camper lovers everywhere that production of the much loved VW Camper lives on. 
The camper van joined the Transporter line-up in 1951 but it wasn't until the 1960s when it was adopted by a free-spirited generation that it became a cult symbol of an alternative lifestyle.
HJ's neighbour uses his 'Bay Window' T2 as a kind of mobile shed and poses his T1 and T2s at the kerbside as forms of automotive sculpture.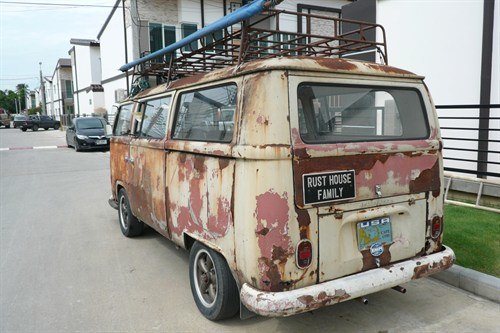 60 years of building campers carries through to the latest generation of Volkswagen campers – The California SE and California Beach.
Inspired by the past, but built for today, the Volkswagen California introduces new standards of comfort, performance and safety, thanks to its modern purpose-built design. But the the latest evolution of Volkswagen's iconic camper van still symbolises the fun, freedom and adventure that was such an appealing quality of the original. The ability to go where you please, when you please is as relevant today as it was in the 1950s – maybe even more so.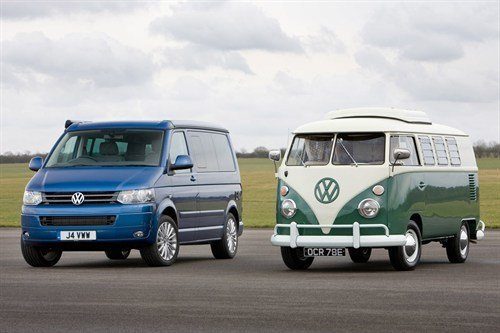 Whether it's a family camping holiday, a festival weekend, or a voyage of discovery road trip, the Volkswagen camper van gives you the freedom of the open road and provides a place to relax, eat and sleep. 
Travel isn't only about the destination, it's about the getting there.
The Volkswagen California SE starts at £44,615 OTR, including VAT. The Volkswagen California Beach (without the kitchen) starts at £35,370 OTR, including VAT.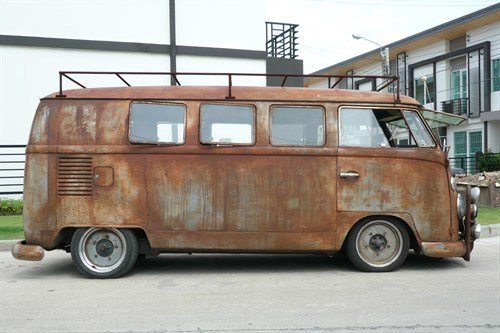 Volkswagen Camper Van Milestones:
| | |
| --- | --- |
| 1949: | The first ever Volkswagen Transporter van is launched at the Geneva Motor Show, with its distinctive smiling face. |
|   |   |
| 1951: | The Volkswagen Transporter is developed into the iconic Volkswagen camper van. |
|   |   |
| 1960s: | The camper van is adopted by the hippie generation, becoming a cult symbol of an alternative lifestyle. |
|   |   |
| 1967: | Second generation Transporter, known as the T2, does away with the classic, 'splittie' (split windscreen) design and introduces panoramic vision, gaining the nickname 'Bay'. |
|   |   |
| 1969: | A Volkswagen camper van becomes the 'Mystery Machine' in hit cartoon series 'Scooby Doo'. |
|   |   |
| 1979: | The T2 becomes the T3, boasting a more angular design |
|   |   |
| 1990: | The Transporter turns 40 and the fourth generation, T4, Transporter is launched. |
|   |   |
| 2003: | The fifth generation T5 Transporter launches to critical acclaim and provides the basis for the latest Volkswagen California camper van. |
|   |   |
| 2013: | Volkswagen California celebrates its 25th anniversary, with around 100,000 California camper vans rolling off the production line since the start of production. |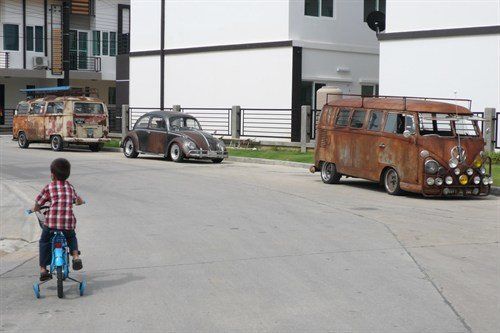 Comments
Author

Honest John
Latest