Land Rover announces afilliation with Royal Navy Type 45 destroyer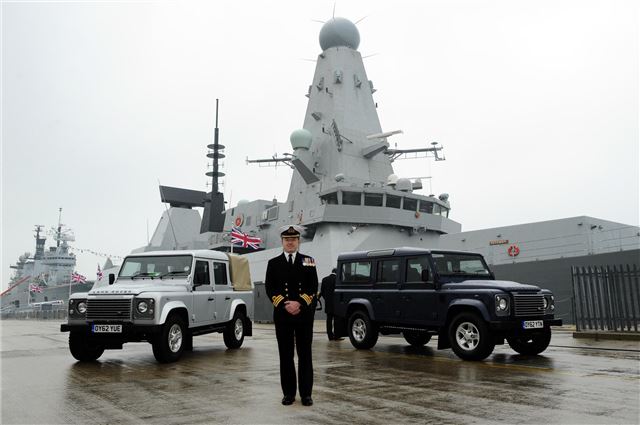 Land Rover has announced an affiliation with a Royal Navy Type 45 destroyer. And what better ship to choose than a namesake of one of its best-known models?
The firm will be supplying HMS Defender with a ... errr ... Defender to use when in dry land and it was present yesterday at the commisioning of the ship at its home port in Portsmouth. 
Mark Cameron, Land Rover Brand Experience Director – Global Marketing, said: "We are proud of our Land Rover Defender as an expression of what Land Rover has stood for for more than 60 years, and in the same spirit we are also proud of our new association with HMS Defender and her servicemen and women.
"Our affiliation reflects shared values and heritage that represent the best of Britain on the world stage. We look forward to sharing experiences and friendship in the future as HMS Defender takes up her duties."
HMS Defender Commanding Officer, Commander Nash said:  "The Commissioning of HMS Defender is a hugely significant day in this state of the art warship's life – it marks the point at which building and testing the ship finishes and frontline service in the Fleet begins.  It is also important to recognise that for the 190 women and men that make up my ship's company this day of Commissioning represents the culmination of months and years of hard work, of training, trials and practice focussed on ensuring that Defender is ready to undertake operations around the world whenever tasked.  We are extremely proud of our achievement and would like to thank our partners in British industries for their assistance in reaching this goal. Land Rover have lent great support for the staging of the ceremonial event today and on behalf of My Ship's Company and guests I would like to pass our sincere thanks for that assistance. "
HMS Defender and Land Rover Defender – key facts
| | | |
| --- | --- | --- |
|   | HMS Defender Type 45 Destroyer | Land Rover Defender 110 Station Wagon |
| Heritage | Fifth Royal Navy ship of this name since 1797 | Current model is the latest development of the original Land Rover concept of 1948 |
| Displacement/weight | 8,000 tonnes | 2,062kg |
| Complement/accommodation | 190 personnel | Driver and up to six passengers |
| Length | 152m | 4.639m |
| Beam/width | 21.2m | 1.79m |
| Height |   |   |
| Draught/wading depth | 5.3m | 500mm |
| Max. speed | 30+ knots | 91mph |
| Range | 7,000 nautical miles | 420 miles |
| Weaponry | Medium calibre guns and weapon systems, short range machine guns, Sea Viper missile system and Lynx helicopter weapons systems | n/a |
Comments