Fiat Panda record attempt off to a flying start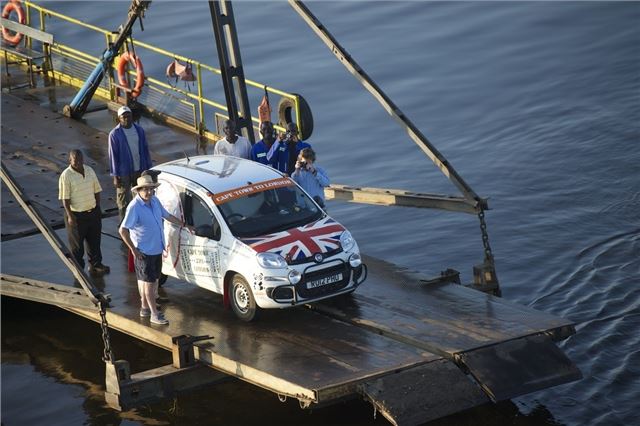 Philip Young and Paul Brice's audacious attempt to beat the Cape Town to London record in their Fiat Panda is still on schedule...
At 6.00am on 1 February, a few minutes before sunrise in Cape Town, Philip and Paul began their epic drive back to London. Their intention is to complete the journey in ten days, thus beating the existing record, set in a far more rugged Range Rover.
As Philip Young commented: 'The Fiat Panda taking on the bid to crack the World Record for the non stop drive across two Continents from Cape Town to London. We're hoping to chalk up 1000 mikes a day for ten days, and hope to finish at Marble Arch on 11 February, having crossed a dozen countries. The current record from Cape Town non stop was set by the British Army in 1983. They had a V8 Range Rover. The Fiat is 900cc and a V2.'
During the first day, the team followed the N1 and N12 through Kimberley and Mafeking to Ramatlabama then through Botswana to the Kazungula ferry.
Into day two, progress has been remarkable. 'We crossed Botswana during the night,' said Philip Young. 'A shame we could not have seen more of this beautiful country. At the Kazungula ferry, border formalities were processed in minutes - getting hold of immigration forms in advance shaved off a lot of the hassle and time and we successfully reached the Zambezi (above) as the sun rose over the water. Nearly a mile wide and fast flowing at this time of the year, our crossing into Zambia had to be done by a pontoon. With just the Panda and crew aboard, we chugged our way across, in the company of a pair of crocodiles.'
'We are taking a little time out for a quick and wonderfully invigorating shower and our first proper breakfast since leaving the Cape Town. The Cross Roads hotel are providing omelette and chips, and we have arranged a pit-stop refuelling to take on 20 litres of avgas. The idea is to use this to pep up the local petrol which is only 92 octane. The start of day two sees us having knocked off 2400 kilometres so far... and the Panda is performing magnificently.'
Stay tuned to see how Philip and Paul get on, as we publish this, they're motoring through Zambia. You can also follow their progress on the interactive map.
Comments