Fiat Panda record attempt more than half way home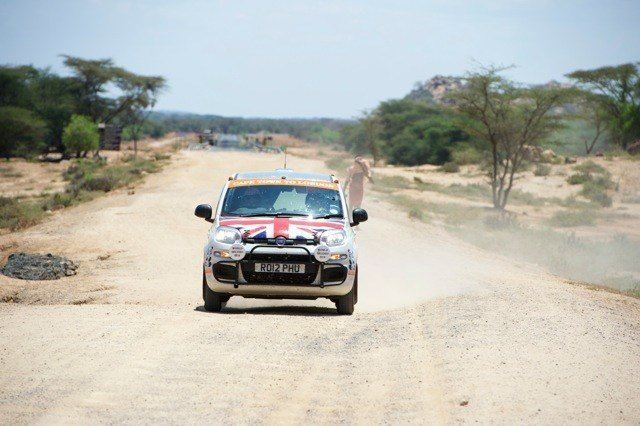 The Fiat Panda attempting to set a new World Record for the 10,300 miles between Cape Town and London driven non-stop has passed the halfway point and is now in Sudan, nearing Egypt.

The crew of Philip Young and Paul Brace drove up from the frontier of Tanzania in the early hours of this morning. If they are to beat the 14-day record, which has stood for 30 years, set by the British Army, they have endured the gruelling drive across the desert of northern Kenya, where one of the roughest tracks in Africa proved a severe test.

Philip Young said in his blog: 'The long sandy stretches are unexpected and more worrying than the banging and crashing over huge ruts and craters. When it comes to sand, we need not have worried. The Panda proves remarkable in the sand, even with the floor rubbing on the surface when the wheels fall into deep ruts previously carved out by trucks, the Panda just keeps barrelling its way forward. Our tyre choice has been the saviour of the night.'

Philip Young and Paul Brace have made good progress so far. They are raising money for Farm Africa, a charity working with local farmers in agricultural projects along the route. He added: 'As we passed through Khartoum in Sudan there was still no time to stop so local agent Midhat Mahir had a lad waiting on Victory Bridge to hand us two chicken burgers wrapped in foil. They would have been cold had we been late but the Panda crossed the bridge over the White Nile spot on time. Lunch was washed down with an alcohol free beer.'

They have to catch a ferry out of Tunisia to be in with a chance of beating the record. Providing the wheels don't fall off, they could be at Marble Arch by 6.30am on 11 February, for a cup of tea in the nearby Costa coffee-shop. The record was set in 1983 by Major John Hemsley and his wife Lucy in a Range Rover, setting a time of 14 days.
Stay tuned to see how Philip and Paul get on, as we publish this, they're motoring through Zambia. You can also follow their progress on the interactive map.
Comments