Fiat Panda crew shatters the world record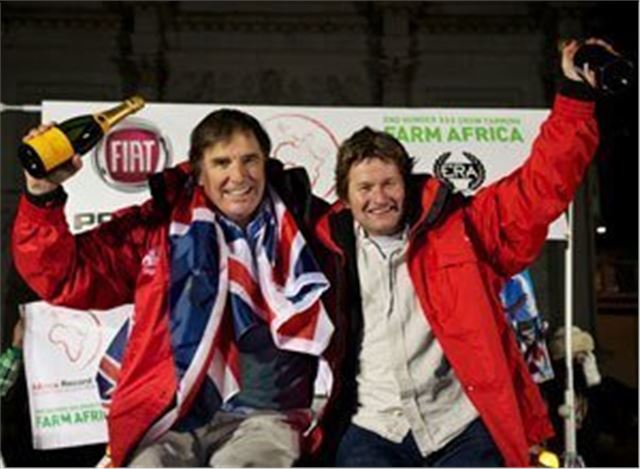 Philip Young and Paul Brace, driving a very lightly modified Fiat Panda TwinAir have beaten the world record for driving from Cape Town to London.
After arriving in Europe on Saturday, the crew drove flat-out through Europe to make their final destination in London. At 5.30pm on Monday 11 February 2013, just 10 days, 13 hours and 30 minutes after leaving Cape Town, Philip Young and Paul Brace drove their Fiat Panda under Marble Arch at the end of their gruelling 10,000 mile drive to London shaving over a day off the previous best time ever achieved.
After crossing Africa without hitch, the European leg of the journey had the potential to throw a couple of spanners in the works. A sudden diversion in Italy due to a shock snow-fall forced them onto a new, longer route up the eastern side of  Italy. It added distance and time and stress.
Then, in France, the Panda found itself sliding around in snow after the Mont Blanc Tunnel - and on past Geneva. Progress slowed some more, limping in single file across a landscape that had suddenly become a total white-out. What a contrast from the long sandy stretches and boulders the size of footballs across Northern Kenya.
Finally, the Channel Tunnel trains were running late, so the Panda Pair had to endure another delay before arriving in the UK in Folkstone. But with a pain-free run through the rush hour to Marble Arch, Philip and Paul arrived at their destination right on schedule.
The Panda Pair claim two world driving records:
Cape Town to London – 14 days, 19 hrs, 26 mins
Set in 1983 by Brigadier John Hemsley and his wife Dr. Lucy Hemsley driving a Range Rover V8.
London – Cape Town (in either direction) – 11 days, 14 hrs, 11 mins
Set in 2010 by Mac MacKenney, Chris Rawlings & Steve MacKenney driving a Land Rover Td5.
Previous updates
Comments