Honest John announces partnership with AROnline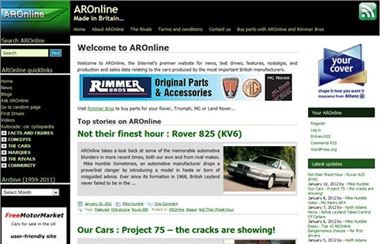 We're pleased to announce a new partnership with AROnline, the leading website dedicated to British-built cars.  The popular site was established more than ten years ago and focuses on both modern and classic British vehicles.
The well respected site has a reputation for its forensic analysis of the post-war British car industry, and offers in-depth histories of particular models. It continues to expand, with the aim of including all UK-built post-war cars, as well as cars sold by companies with significant UK investment.
As a partner to Honestjohn.co.uk, AROnline is a perfect match – it focuses on classic, used British cars while Honestjohn.co.uk focuses on the needs of modern buyers. It'd driven by the concept of sustainable motoring and the belief that driving should be fun.
Keith Adams, the sites creator, will continue to be responsible for the sites direction and content, and said: "I've been a fan of Honest John for longer than I care to mention, and share the same passion for transparency in the industry, and the belief that enthusiasts have an insatiable thirst for knowledge. Going into partnership with HJ offers many opportunities to spread the word."
Honest John said, "Keith's site more or less ends where ours starts so it a perfect fit. Keeping old British cars going creates a lot of work making and fitting the bits for them. So it could be argued that old cars actually keep more skilled British craftsmen in jobs than mass producing new cars."
You can visit AROnline by clicking here. 
Comments