Giveacar photo-competition Winner announced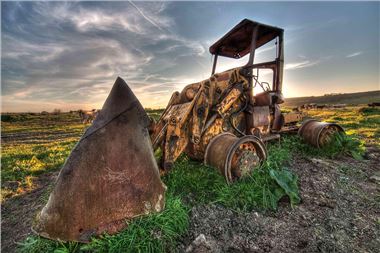 Demonstrating that scrap can be beautiful, Giveacar has announced the winner of its first ever photography competition, which was open to photography fans worldwide.

The Giveacar competition, "Scrap is Beautiful", called for images of vehicles past their best, which could be scrapped and the proceeds donated to charity. From old military units to rusty old cars, the pictures of scrap-worthy vehicles received were varied and creative.

Stephen Elliott, of Hope Valley, Derbyshire, was chosen as the overall winner of this online competition. He took the stunning image of an old loading shovel that had been rusting away for years in a farmer's field just outside the village of Eyam, in the Peak District, Derbyshire. Judges voted the atmospheric photo No 1 out of the hundreds of entries received by Giveacar.

Giveacar is the first organisation in Britain to offer drivers a hassle-free way of getting rid of their old cars and making a donation to the charity of their choice. The not-for-profit social enterprise picks up the vehicles and then uses eco-friendly recycling facilities to break them down into raw materials, which are then sold on. Cars worth more than their scrap value are sold at auction. Car owners are able to choose which of the UK's 200,000 charities they want the money to go to.

Stephen Elliott will be donating his £500 prize to his charity of choice, The Yorkshire Air Ambulance, which has previously received donations totalling over £1,000 from Giveacar.

Stephen says: "I was really pleased to win this photo competition, in particular because I never thought scrap could look quite so good. I am delighted to be handing the £500 prize to the Yorkshire Air Ambulance as I've seen them in action out in the Peak District where I do most of my photography and know that they would be there for me if I ever needed them."

Alex Harvey, Manager of Giveacar, says: "We were absolutely amazed at the high quality and quantity of photographs we received in response to our competition and we are delighted to make the donation of £500 to the Yorkshire Air Ambulance. We have just succeeded in raising £500,000 for charities since we set up a couple of years ago and our target is to reach a million next year."

If you want to help your favourite charity by donating your car, call Giveacar on 020 0011 1664 or visit
www.giveacar.co.uk.
Comments