How Scrapping a Car Put a Smile on This Child's Face This Christmas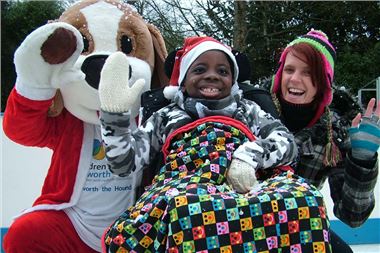 Scrap cars have helped smiles on the faces of children just like Joshua at The Children's Trust this Christmas, thanks to Giveacar, one of Britain's leading non-profit social enterprises.

Joshua, aged 8 from Essex, pictured with Children's Trust carer and Tadworth, the charity's mascot, is just one of the many children who have been helped at The Children's Trust

Giveacar specialises in recycling scrap vehicles, before passing the proceeds on to the charities of the owners' choice. And one of the hundreds of charities that has received a major boost to its funds this year as a result of Giveacar's work is The Children's Trust, which was able to use its additional income to make children's Christmas wishes such as going ice skating or going to the pantomime come true.

The Children's Trust is a national charity that works with children who have multiple disabilities and complex health needs. It is constantly on hand to support the day-to-day lives of special needs children and their families and relies on public donations of time and money. So far, The Children's Trust has received £12,000 through Giveacar.

Giveacar's manager, Alex Harvey commented:

"We are thrilled that we have been able to help The Children's Trust make children's Christmas dreams come true and it is fantastic that the ice skating rink came to the charity's headquarters this year. This has been a very real reminder that scrapping your car with Giveacar can change lives.

"By scrapping your old car with Giveacar, you can ensure that not only is it disposed of with minimum impact on the environment, but you can help provide vitally-needed funding for the charity of your choice. We will pick it up from anywhere in the country, handle all the paperwork and be on hand to support you throughout the collection process. We will then pass the proceeds on to whichever registered charity you choose. To donate your car, call 020 0011 1664 or visit www.giveacar.co.uk and we will take care of the rest."

"Maybe your old banger can put a beaming smile on the face of another child just like Joshua."


To find out more about The Children's Trust, visit www.thechildrenstrust.org.uk.
Comments