M25 celebrates its 25th birthday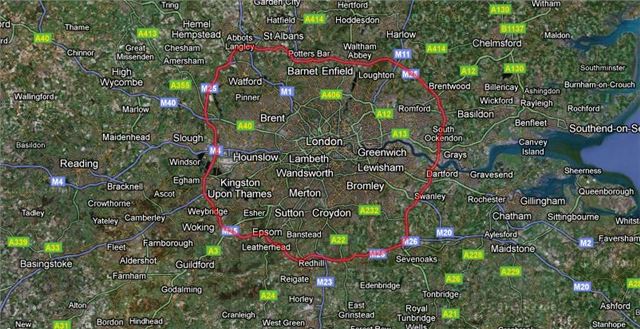 The notorious M25 is 25-years-old today – and true to form the anniversary was called in with a 19-mile tailback caused by an accident.
The M25 was first mooted long before it was built, way back in the early 20th century. As the population of the capital and the number of car owners increased so did the apparent need for an orbital road – and so the M25 was born.
It isn't, however, a full circle. The toll section to the east, where the road crosses the Thames, already existed as the A282, and still has the same name today.
The M25 is 117 miles long, making it the longest city bypass in the world. It has 31 junctions and interchanges with ten other major motorways – so it's easy to see why it gets busy. It's the subject of many radio traffic announcements and is the butt of many jokes, a lot of drivers calling it the world's biggest car park.
After its completion in 1986 it didn't take long for the M25 to reach capacity and since then it's been almost continually worked on, widened and added to – something that's likely to continue for a very long time.
But despite all of its shortcomings the M25 is a very important and necessary road. Before its construction, moving from the south to the north of the Capital and vice-versa involved driving through the already congested city centre, and commuting was difficult for many people living in satellite towns like Watford, Staines, and St Albans, as well as other towns and cities further afield.
So if you're stuck in a tailback on this, the 25th anniversary of the M25, then just remember that it could be worse – imagine how London would be today if it didn't exist at all...
Click here to read how many times you can lap the M25 in a Volkswagen Polo BlueMotion. 
Comments