Sparks Fly in Reliability Survey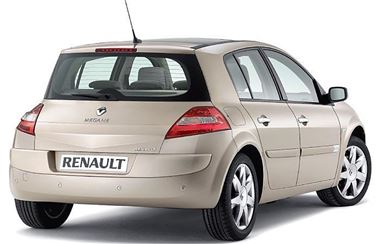 Now that cars rely so much on electrical and electronic wizardry, it's not surprising that electrical faults account for 27% of all car failures, up by about 17% on five years ago*.
Overall, nearly four in 10 cars go awry each year and electrical problems are among the most common causes of breakdown, with repair bills running as high as £2,500.
While the 2002 - 2008 Renault Megane is not necessarily known for its gadgetry, this French hatchback's electrical gremlins contribute to an overall failure rate of 50 per cent, with the Peugeot 607 and BMW's sporty Z4 close behind as the next most likely cars to 'short circuit'.
The top 10, compiled by Warranty Direct using data from the 50,000 live policies that contribute to its www.Reliabilityindex.com website, indicate a potential Achilles' Heel for European cars, which feature exclusively.
Worst 10 cars for suffering electrical faults
| | | |
| --- | --- | --- |
| Make | Model | Chance of failure |
| Renault | Megane (02-09) | 34.66% |
| Peugeot | 607 (00-10) | 31.28% |
| BMW | Z4 (03-09) | 29.86% |
| Renault | Modus (04- ) | 29.61% |
| Audi | A2 (00-06) | 29.02% |
| Land Rover | Range Rover (02- ) | 28.75% |
| Land Rover | Discovery (04- ) | 26.94% |
| Audi | A3 (03- ) | 26.58% |
| Smart | Roadster (03- ) | 25.67% |
| Audi | A4 Convertible (05-09) | 24.44% |
Duncan McClure Fisher of Warranty Direct said: "Electrical faults are extremely common and the amount of computer technology we demand in our new cars today is to blame.
"We pay a huge number of claims to fix highly complex systems such as the electronic control units at the heart of modern cars.
"Often problematic to put right, owners can end up visiting expensive franchised dealers to fix faults."
Just under a third of drivers who own the opulent Peugeot 607 pay for electrical glitches, possibly due to its well appointed cabin and relatively luxurious specification. 
BMW's previous model Z4 soft top is third, followed by another Renault and a brace of Audis and Land Rovers. The quirky Smart Roadster and A4 Convertible complete the rundown with around a quarter incurring problems with their electrics.
According to Warranty Direct, nearly four in 10 vehicles will develop a mechanical failure during any 12-month period. However, the figure varies dramatically depending on the make and model.
Warranty Direct cover starts from as little as £15 a month. For more information on the reliability of your vehicle, visit www.reliabilityindex.com, or go to www.warrantydirect.co.uk for a quote.
*In 2006 electrical faults made up 23% of claims, the latest data shows this to have risen to 27% (a 17.4% increase). 
Follow Warranty Direct on Twitter at: www.twitter.com/Warranty_Direct
Data on www.reliabilityindex.co.uk may not appear exactly as above because, in the interest of robustness, only vehicles under a certain age and represented by a requisite number of Warranty Direct policies are included in press materials.
For further information please contact:
Andy Bothwell or Richard Tanner at Performance PR on 0208 541 3434 andyb@performancepr.co.uk or richard@performancepr.co.uk 
Launched in 1997, Warranty Direct www.warrantydirect.co.uk was the first direct consumer Warranty Company to operate in the UK. It was the first to offer cover against failures caused by 'wear & tear' and pioneered warranty cover against faults found during MOT and service procedures. It has also spearheaded several major motoring campaigns, most notably regarding the state of the UK's potholed roads and the cost of the hourly labour rate for workshop mechanics. It is owned by Cardif Pinnacle, a trading style of Pinnacle Insurance plc and subsidiary of global banking house, BNP Paribas.
Comments