Public unhappy with condition of UK roads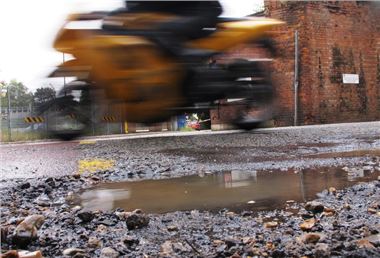 One-in-three drivers have had their cars damaged by a pothole, and 16% have been in or have seen an accident caused by a pothole, according to a poll by the Institute of Advanced Motorists (IAM).
Of 2,600 respondents, 88% voted pothole repair as the top priority for their local councils, and only 14% believe their council is doing a good job of road maintenance.
When asked which aspects of road maintenance were being done well by their council, half of respondents said 'none.'
People in the South East of England were least pleased with local road maintenance – just 10% rating their council as good. On the other hands, 27% of Welsh respondents were happy with the level of road maintenance.
IAM director of policy and research Neil Greig said: "The public is unhappy with the state of their roads, although many realise that spending cuts are the real problem. Eighty per cent of those polled thought that local councils should work more closely together to increase efficiency, and with no loosening of the public purse strings in sight it will take partnerships to ensure the backlog in road maintenance does not continue to stack up."
Besides potholes, respondents believe that keeping foliage trimmed back from the roadside and resurfacing worn roads were important aspects of road maintenance.
Comments