Bosch Car Service launches online booking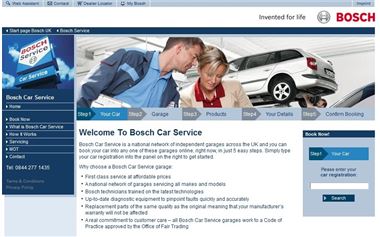 Bosch Car Service has launched a new online booking system for drivers who want to book their vehicle in for servicing, MoTs and repairs such as replacing brake pads and discs, air conditioning recharging and cam belt replacement. Usefully, the new system also shows customers the cost they can expect to pay for each service they have booked.
The Bosch Car Service network, which consists of over 500 independent garages across the UK, was set up  in 2003 to provide motorists with alternative, high-quality vehicle servicing and repair. Garages that are part of the network receive advantages such as access to training courses and keeping up-to-date with the latest information and equipment.
In development for the past 12 months, the new online booking is designed to be convenient and easy to use. There are different levels of servicing - Gold, Silver and Bronze. All you have to do is enter your vehicle registration number and the system will list your vehicle, followed by your postcode so that you can see your nearest Bosch Car Service garages (usefully shown on a map). You can then choose what service, repair or MoT you want to book.
Bosch says it wanted to make sure its online booking facility reflected the Bosch Car Service brand values, which put convenience and transparency at the forefront. "We pride ourselves on our excellent existing relationship with our customers – our most recent annual customer satisfaction survey revealed that 99% of our customers would recommend us to a friend – which is why the facility was built with the customer in mind," say Bosch.
To visit the online booking system, go to: www.boschcarservice.co.uk
Comments