20 years of Kia in the UK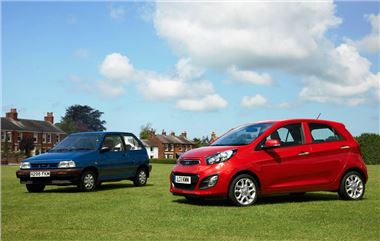 30 June 2011 marks the 20th anniversary of the first Kia going on sale in the UK, two weeks after its spiritual successor, the all new Picanto, went on sale.
Back in 1991 Kia launched the Pride, and a modest but respectable 1,786 were sold in Britain that year, a far cry from the 56,114 vehicles sold by Kia in 2010.
Earlier models represented good value for money and reliability, and that reputation continues today with the brand's seven-year warranty demonstrating their confidence in their cars.
Since 2006 Peter Schreyer has been chief designer, and since then newer models have much more character and flair, broadening the appeal of Kia.
Commenting on Kia's 20th UK anniversary, Michael Cole, Managing Director, Kia Motors (UK) Limited, said: "Kia has been on quite a phenomenal journey in recent years.  In less than two decades we've certainly lived up to our 'Power to Surprise' slogan by growing from a relatively small importer to challenging the best and most established brands in the industry."
For a video test of the latest Kia Picanto, click here. 
Comments