Say goodbye to the 6.2-litre AMG engine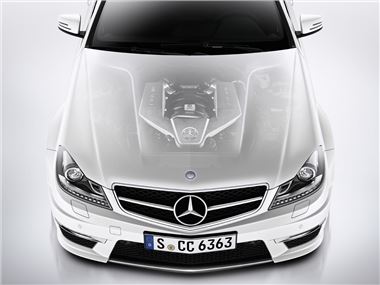 Tightening emissions regulations and rising fuel costs mean future AMG cars will have to make do with smaller engines, according to AMG powertrain engineer Jorg Gindele. But don't worry too much, the replacement is set to be the 5.5-litre turbo, which is hardly what you'd call 'small.'
Gindele, whose favourite engine is the 6.2-litre V8 fitted to the Mercedes-Benz SLS AMG, told us that work is underway to ensure the lower capacity engine, which is already fitted to some AMG variants such as the E63 AMG, will have at least as much 'emotion' as the 6.2 in all applications, and is set to eventually replace the 6.2-litre naturally aspirated engine entirely.
It'll still have the raucous, burbling, popping exhaust note and torque-laden power delivery that gives AMG vehicles such character, but with improved fuel economy and lower emissions.
It's not known exactly when the 6.2-litre naturally aspirated engine will be phased out, but don't expect it too soon given the C63 AMG Coupe has just launched with it. The 5.5-litre unit will wouldn't fit... 
Gindele also spoke about the future of internal combustion engines and the technology required to most cleanly harness petrol power.
He suggested that petrol engines are approaching the point at which nothing more can be done to improve economy, stating that the amount of energy wasted to heat is the biggest obstacle. Forced induction is the latest technology designed to improve economy, but it can only go so far.
He did suggest some novel future ideas, though, such as the possibility of variable compression ratios, and even harnessing the pressure from the exhaust to drive a back up 'steam engine' type motor.
No matter what cars of the future will be powered by, it's safe to say that, with technicians as passionate about internal combustion engines as Gindele, petrol power isn't ready to die just yet.
Comments