Mazda Supports Red Cross Tsunami Appeal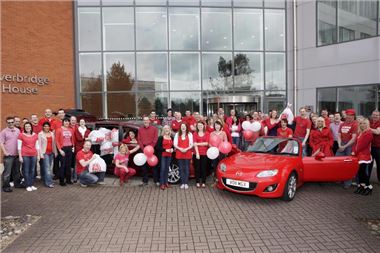 Mazda UK employees, based in Dartford, Kent, left their suits at home on Thursday  31st March and dressed in red instead to fundraise for the British Red Cross Japan Tsunami Appeal.
"In exchange for donating just £2 to the British Red Cross, our employees ditched the daywear and glammed up for Dress Code Red in tribute to the people of Japan who are dealing with the shock of the recent massive earthquake and resulting tsunami causing widespread destruction and suffering," commented Jeremy Thomson, Managing Director for Mazda Motors UK.
Mazda UK's generous employee efforts didn't stop there.  With the help of the Red Cross shop in Gravesend, the Dartford-based company organised a charity collection for donations of unwanted clothes, books, toys and household items among its staff. In total, Mazda UK employees raised over £200 for the Japan Tsunami Appeal from the donations of its 65 employees who took part in the dress down day.
Jeremy Thomson commented: "We felt that Dress Code Red was an appropriate way to involve everyone atMazda UK to raise funds and make donations for the Red Cross in aid of the Japan appeal, while having fun and doing something different at work. Many employees felt they wanted to do something to contribute to the Japan appeal, given our global headquarters and manufacturing facilities are based in Japan.
"Some employees kept it simple by wearing a red t-shirt, red braces or a pair of red socks, some went completely overboard and kept it red from head to toe in true Mazda Zoom-Zoom style. What is important is they have helped the Red Cross provide essential services for people in Japan at this difficult time."
"While Mazda Corporation employees in Japan were fortunate enough to have been unaffected by the tragic events due to the location of the Mazda offices in Hiroshima, many of the employees will undoubtedly have friends and family in the affected regions and our thoughts are with them at this difficult time."
Similar fundraising efforts are taking place at Mazda offices around Europe throughout April.  Meanwhile, Mazda Corporation will donate 30 million yen to support recovery and relief efforts in the region. The company will continue to monitor the situation and will provide goods or personnel as required. 
In a statement on 14th March Mazda Corporation announced: "We would like to express our sincere condolences to those affected by the Tohoku Pacific Offshore Earthquake and the earthquake occurring in the northern part of Nagano Prefecture.  We hope that you are able to take care of yourself and your family members, and we pray for the prompt recovery of the health of those affected and the region."
To make a donation towards the British Red Cross Japan Tsunami Appeal go to 
The British Red Cross helps people in crisis, whoever and wherever they are. They are part of a global voluntary network, responding to conflicts, natural disasters and individual emergencies.  They enable vulnerable people in the UK and abroad to prepare for and withstand emergencies in their own communities. And when the crisis is over, we help them to recover and move on with their lives.
Comments