Vauxhall/Open Designers are Now Mostly British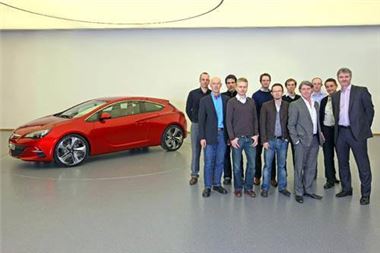 British Designers are playing a major role in the design of Vauxhall's new generation products and are also influencing pan-European and global designs.
As Vice President Design for Vauxhall and Opel, Londoner Mark Adams is overseeing all aspects of the exterior and interior design development for the Vauxhall and Opel brands, including strategy, concept and all production vehicles. In this task, Mark is supported by Malcolm Ward, born and bred in the vicinity of Vauxhall's Headquarters in Luton and now Director of Exterior Design.  Mark Adams' responsibility also extends to the design of some significant global products such as the Buick Regal which is based on Vauxhall's highly successful Insignia and has taken China by storm - also selling well in North America. Thus, Mark and his team of ten Brits are making a big impact in every aspect of Vauxhall and Opel design and beyond - from idea conception to finding technical solutions, their ideas flow from the sophisticated computer screens, through full size clay models, all the way to beautifully executed final exterior and interior designs that provide distinct showroom appeal.
Many of these British members of the design team were graduates of Coventry University's faculty of Automotive and Transport design, one of the most influential in Europe, or the Royal College of Art's Vehicle Design Department, the world's leading centre for vehicle design, education and research. From these academic backgrounds stems the DNA of subtle British elegance so beautifully illustrated by the recent cars' dynamic sweeping lines and sculpted surfaces, together with the high degree of craftsmanship and quality in our new interiors.
"There is no doubt of the impact our British designers have on our cars' final look and feel," says Vauxhall's Vice President for Design, Mark Adams, speaking from the Geneva Auto Show where the all-new Zafira Tourer Concept makes its world debut. Mark added: "Elegant design details are encapsulated in all areas of our new generation products giving Vauxhall cars a much coveted, premium feel'.
The design look from Mark Adams team now extends to Insignia, Insignia Sport Tourer, Astra, Astra Sport Tourer, Astra Coupe and next year's new Zafira.
More at Vauxhall
Comments