Autoblog readers condemn dangerous HID headlights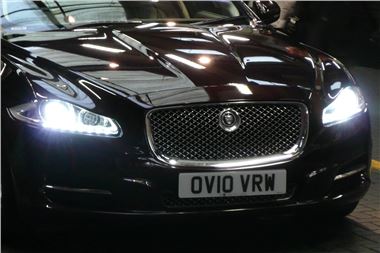 An Autoblog UK poll has revealed an incredible 90 per cent of motorists think xenon headlights are dangerous.
James Baggot ran the survey alongside a story in e-car dealer ('Headlight fight hots up in the war on the bobby dazzlers') which reported on the growing campaign that wants super-bright headlights banned.
The 'Lightmare' campaign has received the backing of the Drivers Instructors Association, as well as other prominent motoring groups, and is spearheaded by night-time London cabbie Ken Perham.
He says the results of our poll confirm motorists think these headlights are a major problem on our roads and says it has added significant weight to his campaign.
Some 13,268 votes were cast in the survey with 11,884 users agreeing with Perham that HID headlights are dangerous. Only 1,257 people said they weren't (nine per cent) and 127 people didn't know (one per cent).
'The proposed changes, if implemented, would reduce accidents, save a few lives and make driving more pleasant for all of us,' he said.
Perham says xenon headlights and daytime running lights make motorcyclists and cyclists less visible. He wants changes to be made to the MOT so misaligned headlights are spotted and rules that make daytime running lights compulsory on all new European cars to be revoked.
He added: 'Your poll confirms that something serious needs to be done about this issue for our safety because anger from being dazzled by selfish drivers is reaching epidemic levels.'
Other motoring organisations were shocked by the results too. 'It's not often you get such a clear cut result in market research so there is clearly something going on here,' said Neil Grieg of the Institute of Advanced Motorists.
'Technically these lights are supposed to help road safety by providing a light that is closer to daylight. Many are illegally and badly fitted DIY set ups that are best dealt with by enforcement.'
Clare Armstrong, co-founder of Safe Speed, believes more research is needed to investigate the 'potential dangers' of these lights.
'This clearly shows people recognise the dangers that can be caused by this type of lighting system,' she told Autoblog UK.
'These lights can cause people and bikes to be hidden, cause distraction and temporary blindness, and is not a step towards road safety. We thoroughly disapprove of their use.'
Honest John added, 'I have noticed three problems with Xenoin lights. If they dip left, then they shine directly into the door mirrors of cars being overtaken, blinding the driver of the overtaken car unless he looks away. OEM Xenons have to automatically compensate for the pitch of the car against the road, but they actually do this very slowly, so on an undulating road they can be shining at the road directly in front of the car, at the sky, or into the eyes of an oncoming driver. And Xenon mechanisms are highly prone to failure, but cost £600 to £1,200 a side to replace, so a lot of drivers simply don't replace them.'
Ken Perham says these poll results have spurred him on to take his fight to the very top and vows to continue to badger manufacturers into fitting more driver friendly daytime running light systems.
More at: www.blindedbixenon.co.uk
Comments