Honda CR-Z Voted Japanese Car of the Year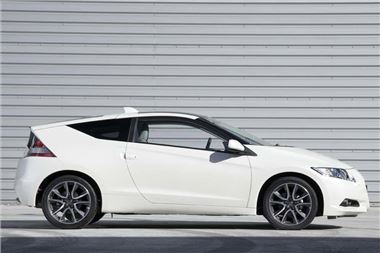 On Tuesday, the Honda CR-Z hybrid coupe beat tough international opposition to become Japan Car of the Year 2010-2011. This is the 11th time a Honda car has collected the prestigiuos honour - making Honda the most successful manufacturer in JCOTY history.
Takanobu Ito, President and CEO of Honda Motor, said: "We are very proud that the CR-Z has been selected from the strong contenders of new models as the Car of the Year Japan 2010-2011. This award shows that the public has accepted Honda's aspiration to supply exceptional environmental performance in a fun-to-drive hybrid car at an affordable price, as well as Honda's desire to spread the joy of owning and driving a car."

The award-winning run continued last night, as the CR-Z scooped Eco Gadget of the Year at the Stuff Gadget Awards.

Fraser MacDonald, editor-in-chief at Stuff magazine, heaped praise on the CR-Z: "The Honda CR-Z looks great, and it feels great to be in. It's also relatively small and light, so – for an unethical minute or two – hit the 'Power' button and work the manual gearbox, and it'll go like a little rocket. Plus – and this is the icing on the eco cake – normal people can afford one."

The Stuff prize tops off a successful week for Honda's great-handling hybrid. Last Saturday, two CR-Zs driven by Edd China and Honest John took part in the first RAC Brighton to London Future Car Challenge and were awarded Most Economical & Environment Friendly Sports HEV.

The new honours join the What Car? Green Awards' Best Sports Car trophy in the CR-Z's already crowded cabinet.

Martin Moll, Head of Marketing at Honda (UK) said: "What a week for the CR-Z! This has been a fantastic boost for the car and the range of awards shows the wide appeal of the CR-Z. It's great to be recognised by a magazine like Stuff, and for it to be chosen as Car of the Year in Japan is a huge honour, especially when you consider the strength of the competition.

"The CR-Z is a unique car, and the first to take a hybrid powertrain and put it into a car that's a genuine pleasure to drive – a true Honda."

The CR-Z is priced from £16,999 OTR and brings together a 1.5-litre i-VTEC engine, six-speed manual gearbox and Honda's Integrated Motor Assist system to make a car that's as fun to drive as it is efficient.
Full road test and video of Honda CR-Z here: Honda CR-Z Road Test
London to Brighton video: FutureCar video
More at Honda
Comments