Hyundai auctions i10 World Cup car for charity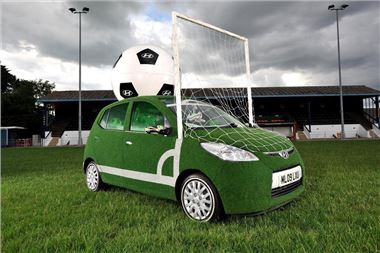 The World Cup may be over, but with the new football league season just around the corner, it's the perfect time for football fans to buy a new car for those long away trips. Although this may not be the ideal choice! It's one of a pair of turf-covered Hyundai i10s built to celebrate Hyundai's association with the 2010 World Cup which is being auctioned on eBay with all proceeds are going to charity.
The 09-plate car has been modified to become truly unique and it's certainly eye-catching. Hyundai reckons it's ideal for any sports-related business which needs an unusual way of advertising - or alternatively a very committed football fan!
It was produced by car artist Andy Saunders - a hugely talented and world-famous car modifier - the Hyundai i10 has 'grass' bodywork and matching interior, a giant football on the roof and goal posts fixed to the A-pillars. In fact, this i10 has had a 'celebrity' past. Before its conversion the i10 was one of two lent to Jeremy Clarkson for his 2009 DVD 'Duel'.
Now its World Cup promotional duties are over, the i10 is being sold as part of a charity challenge. All the money raised will be handed to BEN, the automotive industry charity, as a donation.
Bidding will start at just £1995, although it's hoped the final total will be at least double this when the auction ends at midday on Tuesday August 10. There's a link to the eBay auction here.
Comments