Nostalgia Weekend at Croft Circuit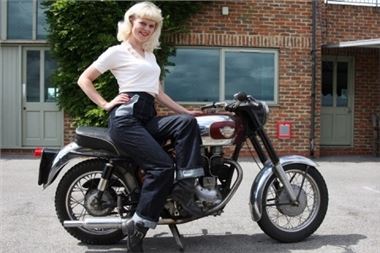 Emma Lowes is one of the hundreds if not thousands of nostalgia enthusiasts who'll be dressing up in period costume for Croft race circuit's first Nostalgia Weekend (7-8 August).
Emma, aged 28 and from Trimdon, Co Durham will be attending with her young family and is encouraging other mums and dads to bring along their children to the event which is based around motor racing and classic vehicle displays from the Forties, Fifties, Sixties and Seventies.
In all some 16 races for more than 180 high-performance sports, GT, saloon and single-seater cars from those four decades are in action during the event at the Croft circuit in North Yorkshire. Off-track, more than 200 classic vehicles and aircraft will be on display while other entertainment includes a Forties fashion show, George Formby tribute and even a WWII army kitchen serving up food from the period.
Adults can buy tickets from as little as £10 while admission for children aged 15 & under is FREE. And organisers are encouraging the public to dress up in outfits from one of four decades – Forties, Fifties, Sixties or Seventies – to add to the atmosphere during the weekend.
Fifties fan Emma, whose family owns a rare 1957 Chevrolet 210, is pictured above during a sneak media preview to the Croft Nostalgia Weekend in the Croft pit lane with a 1960 Royal Enfield motorcycle. Also present were cars such as a 1951 Jaguar C-type, a 1956 Chevrolet Corvette C1 – one of only five in the UK – plus various WWII military vehicles and two late Sixties/early Seventies Formula 3 racing cars. All will be returning to Croft in just over a week's time for the public to drool over.

Emma says: "This event has got the potential to be massive and will really open people's minds. Its uniqueness – mixing static displays with top-class historic motor racing – is going to appeal to so many people young and old and it's great to see something like this at last in the North-East. You certainly don't need to be just into racing cars to get a big kick out of it.
"The kids are always amazed by all the chrome and styling of many of the classic cars and the sight and sound of the racing is going to create a really big buzz. It's got something for all the family."
The deadline to book tickets up front is 5pm Monday 2 August. After that admission costs £15 on the day with children aged 15 & under still FREE. More details are available from www.croftcircuit.co.uk or 01325 721815.
Comments