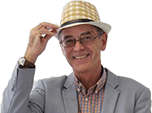 Hyundai gets into the funeral business, BMW's political roundel badges and a SEAT Leon with a 10,000-mile range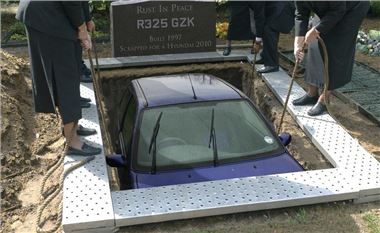 This year's April Fools jokes from car manufacturers features a SEAT Leon prototype with a 10,000-mile range, BMW badges that show who'd got your vote in the election and Hyundai's new funeral business. Even Goodwood has got in on the act.
Here's our round-up of wind-ups:
Hyundai
The arrival of a new car - especially a Hyundai - is certain to cause plenty of excitement for the new owner. However, even this elation is often tinged with a little sadness about the fate of the old car being left behind.
Research by Hyundai has revealed that some such customers feel guilty abandoning their cars to an unknown fate, and are looking for a way to give their trade-in a dignified way out.
"These old cars are often seen as members of the family by their owners", said Dr May Kenetahp, head of Insipientia at Lirpa College of Higher Education. "These people wouldn't drown a dog just because it becomes incontinent and dribbles on the carpet, so they don't feel they can crush a car when it starts to leak oil or blows a head gasket."
To cater for these sensitive souls, Hyundai is to become the first manufacturer in the world to offer discreet, dignified and dedicated disposals for old cars. Rather than being unceremoniously crushed, one of two Hyundai accredited companies - AP Rhyl and PH Ohul - will collect the deceased motor and take it to one of three new 'Garages of Rest', conveniently situated in public parks and beauty spots around the UK.
Once there, Hyundai offers a selection of ways to ensure your car is never forgotten. A full burial, where the car is actually put into the ground in its entirety, costs just £2,000 - exactly the same as the scrappage allowance.
For customers who want a slightly cheaper option or just didn't like the car that much, Hyundai will 'cuddle' it into a compact cube and then bury that for just £1,500.
The last option, designed to appeal to the most impecunious and yet still sentimental buyers, is to take a selected component from the beat-up banger and bury it in Hyundai's Car Park of Remembrance.
Most owners selecting this option are expected to choose a number plate from the car, which will only be partially buried, therefore saving on a memorial plaque too. This option can be had for as little as £750.
One of the first customers to sign up was Mrs Dapoynt from Dunover. She said: "I liked my old car so much I gave her a name and put really funny stickers in the back window and everything. But she had become a bit naughty in her old age and left me stranded by the side of a busy, dark motorway on several occasions. It was time to put an end to our suffering."
Mrs Dapoynt looked at finding her car a new home but was surprised when no one was willing to pay £2,000 for her 12 year old hatchback. So she decided to put Hyundai's generous scrappage contribution to good use and buy a new traffic jam companion.
As the Hyundai offered such good value, Mrs Dapoynt was then able to use the change to buy a humane disposal for her old car. "I decided to go for option 'B' so Trixi could fit into a more compact parking space after completing her trip to car heaven," she said.
Trixi was gently massaged into a cube by an accredited 'Car Cuddler' and taken to her final resting place in a specially-adapted Hyundai iLoad van.
"It was an emotional ceremony, but immediately after the sandwiches and low-alcohol sherry I was handed the keys to my new i10 so I could start the bonding process as soon as possible. I hope Trixi isn't listening, but I think I love my i10 more than her now! She's great looking, good to drive and better on fule too."
SEAT
SEAT is today unveiling the first details of an exciting new Leon Ecomotive Prototype which adds a radical twist to the idea of maintenance-free motoring.
The one-off prototype has been cleverly re-engineered to include a 545-litre (120-gallon) fuel tank which, working on the basis of the new Ecomotive's extra urban economy figure of 83.1 mpg, gives the ultra-green Leon the unique ability to cover a full 10,000 miles between fill-ups.
As a result this exceptional Leon Ecomotive, which like the production version boasts a new 1.6-litre TDIcommon rail powerplant as well as new start-stop technology, is able to offer many of its lucky owners the luxury of never having to visit the filling station again.
Since the SEAT comes with a 12-month/10,000-mile service interval as standard, the new prototype model need only ever be fuelled by a SEAT dealer. As such, the car is not fitted with a conventional fuel filler flap or cap, the diesel instead being refilled via a special nozzle in the boot.
Even higher mileage drivers covering, for example, 12,000 miles a year could collect their car in, say, June and then look forward to ten months of unstoppable motoring before their vehicle's first scheduled 10,000-mile service and an April fuel stop.
Of course to accommodate this extra-large fuel tank SEAT's engineers have had to significantly rework the Leon's interior layout. Out have come the rear seats to be replaced, instead, by the enlarged tank which fits neatly into the space vacated by the three seats.
A handy luggage space sits atop the extra-large fuel tank, meaning the Leon Ecomotive Prototype remains as practical as it is economical.
Other important revisions have been made to the SEAT's standard suspension set-up of course, allowing it to maintain its sporty handling while carrying the increased fuel load. The Leon's already efficient brakes have been uprated, too.
As ever, safety is paramount and SEAT's engineers have worked hard to ensure the concept doesn't compromise passenger or pedestrian protection. Significant reinforcement of the Leon's already robust passenger protection measures ally to the fact that even should the tank be ruptured in a serious accident, a characteristic of diesel fuel is that although it will burn in open air using a wick it will not explode and does not release a large amount of flammable vapour.
The clear advantage of the prototype SEAT is, of course, never having to queue at the filling station, never again donning the plastic disposable glove before refuelling and never waiting in line to pay. In the case of the new car, refuelling takes place as a matter of course when the car visits a SEAT dealership, with dealers set to offer handy fuel payment plans alongside the existing fixed price service plans.
Head of SEAT UK Press & PR, Mike Orford, said of the intriguing prototype: 'Clearly, you'd be a fool not to see the benefits of this new Leon Ecomotive.
'Travelling 10,000 miles between fill-ups removes a significant amount of forecourt queuing and waiting time for Leondrivers meaning they'll have more time to spend enjoying their car.
'We expect the first drivers will be tickled pink when the car goes on sale here.'
BMW
Soon Great Britain will be in the grip of election fever and as the public goes to the polls BMW has created a unique way for customers to personalise their cars depending on their political leanings. BMW's innovative Political Roundel Attachment Tag (PRAT) is a highly stylised limited edition accessory of the BMW product portfolio and comes available in the colours of all major UK parties.
Uwe Beanhadde, Head of Made-up Technology at BMW's renowned Forschungs und Innovationszentrum in Munich, said: "We have been working on this innovation for a number of years and see it as a niche with potentially wide appeal. One of the most popular features, sure to strike a cord with the floating voter, is that the roundel can be replaced in a matter of seconds should the opposition suddenly seem more appealing".
News of the PRAT accessory comes swiftly after boffins at BMW offered other award winning innovations such as Canine Repellant Alloy Protection that stopped dogs relieving themselves on customers' wheels, Magnetic Tow Technology, the ultimate in tailgating tech, and BMW Instant Messaging which let owners know what they really thought of other road users.
Further details on PRAT can be found by contacting 0800 561 0080 or emailing Uwe.Beanhadde@bmw.co.uk To find out more on real innovations visit www.bmw.co.uk/connecteddrive or www.bmw.co.uk/efficientdynamics
Goodwood
Following the recent announcement by Festival of Speed founder Lord March that Goodwood will this year introduce a new Manufacturers Preview Day, dubbed the Moving Motor Show - to be held on Thursday 1 July - he is today (1 April) able to confirm an innovative scheme to help lower man-made emission levels throughout the exhibition site, as well as the Festival of Speed itself (2-4 July).
To reduce the number of generators used on site, this year's event will be powered by natural methane gas, taken directly from Goodwood's extensive herd of Dairy Shorthorn cattle. This rare breed of cows usually supplies Goodwood's delicious organic milk and organic beef products. However, between 1-4 July, Goodwood's Dairy Shorthorn cattle herd will generate enough methane to power the entire Festival site.
Commenting on this eco-friendly initiative, a manufacturer's spokesperson said: "It's enlightening to see that Goodwood is taking no bull, and the organisers deserve a real pat on the back. This wind-powered solution is udderly electrifying."
Comments