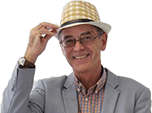 Caterham Day at Castle Combe on 3rd May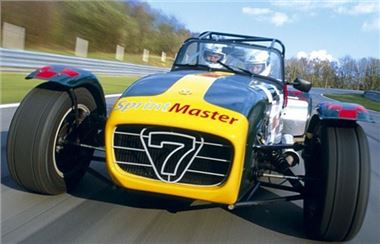 It's Caterham Day at the Castle Combe Circuit on Monday, May 3, when around sixty
examples of one of the hairiest of road going sports cars gather to do battle at the
Caterham Carnival Raceday.
Six races for the Avon Tyres Roadsport and Supersport Caterham Championships make up
the bulk of the day's entertainment, ultra close racing between these evenly matched
machines being the order of the day. There are three different classes, from the
Roadsports B's which can and often are driven to and from the circuit, to the
Supersports, which are in full race-car style trim for their 30 minute races.
Bath's Michael Scott is typical of the drivers moving up the Caterham ladder.
Starting in the Caterham Academy, designed for those with no previous motor sport
experience, Scott moved up to Roadsports B in 2009 and made his Supersport debut at
Silverstone last month, where he finished 6th and 7th in the two races, having
qualified 8th.
Backing up the Caterhams are the three races for the circuit's ever popular
championships for saloons, single seaters and sports cars.
Ben Norton from Bratton in Wiltshire, got his 2010 campaign off to a cracking start
at Easter, when he annihilated his opposition in the Formula Ford 1600 championship
race. Norton took his Spectrum some 11 seconds clear of his nearest challenger,
Marcus Allen, by the chequered flag, so the others have plenty of work to do to
catch up.
Showing an impressive turn of speed in qualifying though, was Norton's Wiltshire
College team mate, Oliver White from Timsbury, who was alongside Norton on the front
of the grid. That this was the 17 year old's first single seater race showed in the
main event however, as he sidelined his Spectrum at the Esses on the first lap. The
2009 SaxMax saloon car champion has already shown however, that with more
experience, he has the potential to mount a strong championship challenge.
Castle Combe's Andrew Jones, one of the more senior drivers, was surprised to be
completing the podium at Easter, but seems to have his unique Ray chassis working
well. He said," This is one of the strongest fields for a long time, so I am very
pleased with the way things are going".
Out of kilter at the first round, but not to be discounted in any way, were the
Fisher brothers from Bridgwater. Having both qualified well down the field as they
helped each other with car issues, the pair fought through brilliantly, Josh
claiming 4th, from 21st on the grid and reigning Class B champion, Felix, taking
6th.
The meat in the Fisher sandwich was Saltford's Steven Jensen, having his first run
in the Kevin Mills Racing Spectrum.
Hoping to get on terms with Class B leader, Allen, is Bradford on Avon's David
Vivian, another Wiltshire College driver.
Chippenham's Kyle Tilley was a clear winner of Class C at Easter in his Van Diemen
RF87, Westbury's John Hallam needing to close a large speed deficit in the RIADRO
Racing RF89.
The thrills in the National Mobile Windscreens Saloon Car Championship will come
from the in-class battles if the last meeting was anything to go by. In the class
for two wheel drive cars up to 3 litres, Bristol's Mark Wyatt in the Astra held off
the pole sitting turbo SEAT Ibiza of Stonehouse's Bill Brockbank, to take the class
victory after the Cupra expired on the penultimate lap. Tony Hutchings from Calne
continues to improve his Audi TT but they all face a new challenge from Hilperton's
Tim Hanlon, the 1999 champion, whose SEAT Ibiza Cupra has been waiting in the wings
until finally perfected. Also waiting has been Adam Prebble, who has his debut in
the Rover Turbo his brother, Gary, won the 2002 championship in.
Another immense battle will be seen in Class C, which last time went to Yate's Nick
Charles, who was phenomenally quick in his 106 to take 3rd overall, winning the
class from Bristol's David Kift and Chippenham's Will Di Claudio, similarly equipped
in 5th and 6th places overall.
The 2009 champion, Jason Cooper from Yatton Keynell, has yet to score or even race
with the others as the new class C engine in his Fiesta came to a halt on the first
lap with a faulty crank sensor.
Olly Lewis from Peasedown St John is still recovering from his accident last year,
but if his rapid Peugeot makes the grid it should dominate Class D and worry some of
the bigger cars in the process.
Trowbridge's Andrew Shanley looked to have the PSC Castle Combe Sports and GT
Championship race in the bag at Easter, only for an engine problem to sideline him,
handing the win to reigning champion, Simon Tilling, another Radical driver.
Bath's Guy Parr will be looking for a repeat of his 3rd overall in the Wayne Poole
Racing Nemesis whilst Highly Modified Class champion Mark Funnell from Trowbridge
continues to astound by driving his Lotus Exige to and from the circuit and blitzing
Class B.
Class D for Production Sports & Saloon cars sees Castle Combe's Keith Sprules out
for the first time this year in his bright yellow Ferrari 360.
Completing the action is a round of the Lenham Sports Cars MG Midget Challenge, with
everything from relatively unmodified road going cars to the full race 'Spridgets'.
These 40+ year old cars are astoundingly quick and it's hard to believe they still
use the old BMC 'A series' engine as motive power.
Monday's action starts at 8.45 am with qualifying, racing getting under way from
12.15 pm.
Admission prices are yet again held from last year at £15 for Adults, £7.50 for
OAPs, £2.50 for Paddock Transfer, whilst accompanied children under 16 are admitted
free.
For further information, visit the Castle Combe Circuit website on
Comments