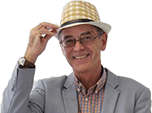 MAZDA CELEBRATES HEROES OF LONDON TRIATHLON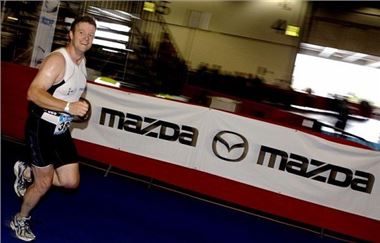 Mazda Motors UK today announced that its first year as headline sponsor of the London Triathlon, the world's largest swim-bike-run event, has been a huge success. This year's event, held on 9 and 10 August at ExCeL in London's Royal Victoria Dock, was bigger than ever with over 13,000 competitors.
"Mazda wanted to add to the experience of taking part in the Mazda London Triathlon," explains Mark Cameron, Marketing Director for Mazda. "So we introduced a theme to the event, 'Heroes', and created activities as part of that theme, which we hope made the weekend even more memorable for competitors and their families as well as other spectators."
Triathlon hero and Ironman Legend Dave Scott was one of many speakers who appeared in the new 'Ambassadors Theatre' to share experiences with others at the Mazda London Triathlon. The Theatre was created and run by Mazda to provide information and inspiration for all triathletes, whether experienced or novice, and give visitors a chance to ask questions of some of triathlon's greatest and most talented individuals.
Other 'heroes' appearing at the Ambassadors Theatre were: The winner of last year's London Triathlon and former Olympic Triathlete for Great Britain, Michelle Dillon; Olympic and World Champion Coach Bill Black; and Steve Lumley, coach for the Mazda/BTF Talent Identification Programme and for Jodie Swallow, who came third in the Female Elite race in this year's Mazda London Triathlon.
Also launched by Mazda at this year's event was the 'Heroes Gallery'. Competitors had their photo taken wearing their medal and were given a copy with a space at the bottom to write a message about their experiences of the Mazda London Triathlon. These photos were posted on a wall for others to read, which attracted quite a crowd.
In addition, each of these photos of competitors was printed on a special magazine front cover, as though they were a famous elite triathlete, to take home and keep as a souvenir.
This was very popular, particularly with Georgina Fox who completed the triathlon on Sunday (10 August) and then accepted a proposal of marriage when her partner, Rob Mcfarland, got down on one knee on the finish line. Georgina and her new fiancé had their photo taken and published on the magazine cover and used the 'Heroes Gallery' to announce their engagement.
Continuing the 'Heroes' theme, spectators were able to enjoy the new 'Mazda Heroes Playground', situated next to the 'Run' part of the course near the West entrance to ExCeL, where visitors could relax on giant bean bags, watch the race, listen to music provided by a local radio station and enjoy the Mazda hospitality suite.
"Mazda believes that everyone who competes in the Mazda London Triathlon is a winner, whatever their level of ability," explains Mark Cameron, marketing director for Mazda. "Triathlon is about the individual challenge and sense of achievement when crossing the finish line, which Mazda is reflecting through the 'Heroes' theme."
More at
www.mazda.co.uk
Comments