Cobra-Ferrari Wars, on DVD: a Must See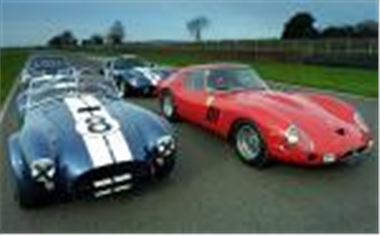 I just spent an enjoyable hour and a half watching this, and it's better than most car movies.
Using colour archive footage and interviwes it tells the story of how, after Angina forced him to give up winning races, handsome Texas chicken farmer Carrol Shelby took on the might of Enzo Ferrari, in a 20 year old English sportscar with a Canadian Ford pick-up engine under the bonnet.
The documentary was announced in 2002 and first broadcast by the BBC to much critical acclaim. Now, Producer/Director Richard Symons, has painstakingly added rare footage and previously unseen interviews into a twin-set DVD which has only just been released.
In Shelby's own words, "I spent a whole lot of time with Richard on this and he's really nailed it. Got all the right people, from Dan Gurney to Lee Iacocca. It's a wonderful story and I've never seen anybody tell it better. I'm very proud to have been part of it."
Other heroes include laconic and extremely quick English driver, Ken Miles; designer of the Le Mans winning Daytona Cobra, Pete Brock; plus Bob Bondurant. Roy Salvadori and 'Gentleman' Jack Sears and many more.
The double DVD set includes the full broadcast film, three picture galleries, previously unseen footage, exclusive never-before seen interviews, deleted scenes, excerpts from the rough-cut and numerous other gems – for example, the first trailer produced to hook prospective broadcasters. There's even some six hours worth of un-cut transcripts of interviews with Shelby giving a unique insight into the man himself as well as spilling the beans on back-door shenanigans/politics.
With its fast-pace, 60's soundtrack and effortless split-screen cool, the Cobra Ferrari Wars is compulsive viewing.
Available now on DVD from:
www.spiritlevelfilm.com
at £24.99 including VAT.
Also still available, 'C'etait un Rendezvous' filmed by Claud Lelouch directly from a Ferrari driven flat-out across Paris early one Sunday morning in the late 1960s, at £14.99.
Comments