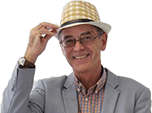 Cayenne Turbo at Top Car Today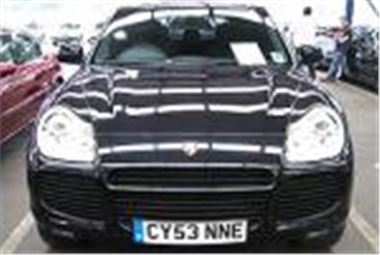 Suddenly the 160mph, 0-60 in 5 seconds Porsche Cayenne Turbo has become the ultimate eliminator, wiping out the likes of ML55 AMGs and X5 4.8iSs. You want respect on the road, you have to have the hot pepper. But Porsche won't just drop everything and make one for you, so to get one you have to buy someone else's, normally at a premium.
The UK supplied 53 reg in the photo had done 12,000 miles, so was far from new. But the spec included everything the Turbo gets, plus an extra £13k's worth. The wheels alone were £1,000 each. The CY53NN3 reg was £1,500. And the original invoice came to an eye watering eighty-three grand.
But, though undoubtedly the star of the show, it was not entered until this morning, far too late to benefit from any BCA pre-publicity even on Auctionview. So though it got close, it did not quite make its £69,000 reserve. Now it will go on sale or return to a Porsche dealer, unless you make Gerry Marks an offer on 07976 514964.
Another Porsche Turbo, this one an 8k mile 03 reg 996 Tiptronic with all the bits including satnav bid to £75,500. A 26k mile 94M, Bentley Continental R Coupe, that should have been the star of the show until the Cayenne usurped it, bid to £45,500 and would have been a lot of car for the money if it came for that.
Yet, there were also some relatively good buys. A 50k mile Y reg (three years old, now) X5 3.0i Sport manual with satnav, TV and leather sold for £25,800, and in Hall 2 a 75k mile 2000W Jag S-Type manual with a slightly noisy V6 saw a top bid of £5,500, which must make it the cheapest S Type in post 'Sweeney' history.
We've mentioned Rovers on the floor in more ways than one. And today you could have had a 69k mile 2000W 25 1.4iL (103PS) for a mere £2,100. But it wasn't bargain of the day.
That honour went to a 66k mile 2000W Alfa 166 2.0 Twin Spark, sold away for a mere £3,400.
Remember, big mixed fleer, finance and part exchange sale on Wednesday and Friday. And don't forget the Classic and Historic auction on Saturday 31st. As always the best way to look for a specific car coming up at auction or to pre-check a day's sale is to visit
www.auctionview.co.uk
For details of the classic sale go to
www.classic-car-auction.co.uk
Brightwells next HUGE WEEKLY 4x4 SALE takes place tomorrow, 27th July at Leominster Market on the A49 by-pass, Leominster, Herefordshire, start time 11.00am, phone: 01568 611325, website:
www.brightwells.com
Comments