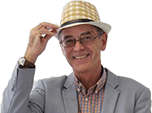 Another Cheap Day at Auction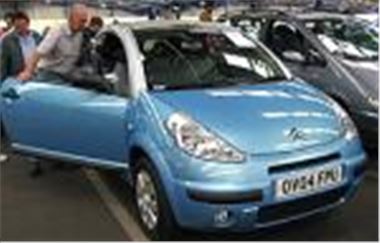 Private buyers flocked to Blackbushe today and plenty of them drove home in bargains.
The Citroen C3 Pluriel in the photo was only a couple of months old, with just 1,000 miles on the clock and everything working, just the rear tonneau missing. Top bid was £7,250 by a well known trade buyer.
However, today being the last day of the month the Bank of Scotland and Lex cars were reserved to sell and Hall 1 was where the real bargains were.
A pair of R reg Mondeo Ghias were £1,400 for the 75k not warranted Ghia X and £1,175 for the 87k not warranted Ghia. A 78k mile 98R 2.0LX was just £925.
X reg BMW 320d SEs came in threes: the 90k milers sold for £8,900 and £9,000, while the 81k miler made £9,800. A pair of W211 E220 CDI Avant Garde autos sold at £25,100 for the 24k mile car and £22,450 for the 50k miler. 4 year old 318iSEs are under £7,000 with a 94k mile May 2000W selling for £6,950. A 35k mile 2002/51 318i SE was £12,800 and a 44k mile 201/51 318Ci coupe was just £12,500.
Even cheaper cheapies included a 58k mile 2001Y Toyota Prius, sold for £6,250; a 95k mile 2000W Golf TDI PD 115, sold for £5,800; a 27k mile 2001Y Focus 2.0 Zetec 3-dr with a/c bid to £5,250; a 47k mile 2001/51 RAV-4 2.0GX 5-door, sold for £11,100; a 14k mile 02 reg FIAT Stilo 2.4 Abarth, sold for £6,850; a 91k mile 2001X Rover 45 2.0TD IE, bid to £2,650; and a 2000V Peugeot 406 2.0HDI 110 LX estate sold for an astonishing £1,950. However, at 215,685 miles it had probably amortised itself.
There's plenty more going on over the next week with FIATs, ex-fleet cars and part-exchanges on Wednesday, the van sale on Thursday, ex-fleet cars and part-exchanges on Friday, same as today at Blackbushe next Monday, and also next Monday evening a BCA Classic Sale to be held at the Brooklands Museum in Weybridge.
As always the best way to look for a specific car coming up at auction or to pre-check a day's sale is to visit
www.auctionview.co.uk
Brightwells next HUGE WEEKLY 4x4 SALE takes place tomorrow, 1st June at Leominster Market on the A49 by-pass, Leominster, Herefordshire, start time 11.00am, phone: 01568 611325, website:
www.brightwells.com
Comments