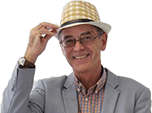 Something For Everyone at Auction Today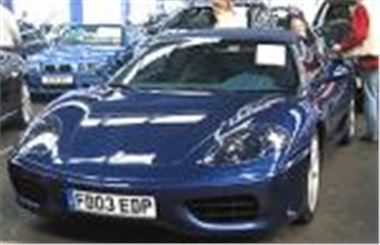 Easter Monday's Top Car sale certainly drew the crowds, and early arrivals also took advantage of the Hall 3 part-exchanges.
Top Car of the day was the left-hand-drive Ferrari F360 Modena F1 Spider in the photo, imported from Spain and with only 7,000 kilometres under its wheels. It sold for a very reasonable £83,000, which has to leave plenty of profit for someone re-exporting to a LHD country and begs the question why it ever left Spain in the first place, where tax-paid Ferraris are a lot more money than they are here.
A Top Car surprise was a brand new 227 mile 04 reg Jag X-Type 2.0d SE estate with leather. It had apparently been traded up into by a trader needing to get out of a car that wouldn't sell, and he went home smiling after taking £22,950 for the car. I guess Jaguar will be happy about that, too.
Not quite so good was £22,900 realised by a 12k mile new shape 2002/52 Mercedes CLK 240 2.6 Avant Garde 6-speed. Not long ago, these status symbols were at a premium, but maybe it was the Barcelona box that pulled this one back.
Mercedes MLs were in abundance: Starter money today was £19,000 paid for a 33k mile 2001X ML320, followed by £19,900 for a 52k mile 2001Y ML320 7-seater, then £20,900 for a 60k mile 2001X ML270 CDI 7-seater, £24,200 for a 25k mile 02 reg ML270CDI, and a provisional £25,200 for a 26k mile 2001X ML55 AMG.
Exotica included a 47k mile 2001X Porsche 911 996 Carrera convertible with hardtop and satnav which reached a provisional £38,750; a privately imported 73k mile 2002/52 Mercedes CL500 which sold for £36,400; a 21k mile 02 reg TVR Tuscan 4.0S which made a provisional £31,850; and a 59k mile 2000W Maserati 3200GT auto which bid to £24,000 provisional.
In Hall 2 a 55k mile 02 reg Nissan X Trail 2.2DI Sport 6-speed with 6 CD multiplayer and parking sensors but a scratched sill and screen bid to a low £12,100, but a 7k mile 2003/53 Berlingo Multispace Desire 1.9D bid to a whopping £6,950.
Part-exchange money ranged from a level £325 for a 106k mile 93L Mondeo 1.8LX 4-door through a strong £1,675 paid for an unwarranted mile 95N Citroen XM 2.1TD VSX auto estate, and a very high £3,875 for an unwarranted mile 92J Pajero 2.8TD auto, to £4,350 for a 1983 Rolls Shadow with a flat tyre.
Remember, 150 car Ford ex-rental sale on Thursday 15th April.
If you're thinking of buying at auction, as always the best way to look for a specific car or pre-check a day's sale is to visit
www.auctionview.co.uk
Brightwells next HUGE WEEKLY 4x4 SALE takes place tomorrow, 13th April at Leominster Market on the A49 by-pass, Leominster, Herefordshire, start time 11.00am, phone: 01568 611325, website:
www.brightwells.com
Comments