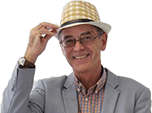 New Focus 1.6 Zetec £9,350 at Auction Today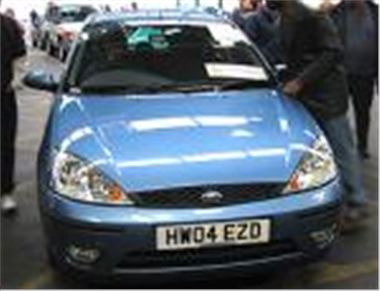 Plenty of cheap cars at BCA Blackbushe today, and more on Bank Holiday Monday.
The 303 mile 04 registered metallic blue Focus 1.6 Zetec 5-door in the photo lists at £12,737 and would probably set you back about £11,000 via a broker or supersite. And it wasn't the only nearly new bargain in the Motability section.
A 272 mile 2004/53 reg Vauxhall Meriva 1.6 Enjoy with a/c bid to just £7,950 provisionally, and this car lists at £12,197. In comparison, an 1,830 mile 2003/53 reg Micra 1.2S 3-door automatic looked a bit dear to me at £6,550, but it was subject to a bidding battle. Whereas a 656 mile 2003/53 Renault Clio 1.2 Expression with "auto clutch" sold for £5,600.
Other cheap nearly new cars today included a 9k mile 03 reg Audi A4 TDI V6 163bhp Sport Avant, sold for £19,650; a nice 11k mile met grey manual 2003/53 Jag S-Type 2.5 V6 Sport, sold for £16,900; and a 3,600 mile 2004/53 facelift Honda Civic 1.4E 5-door bid to a provisional £7,400. Interestingly the base model E has a CD radio, but comes without the console fitted to higher spec Civics since March 2003.
Also far from dear, a 97k mile 2000X Mercedes E320 CDI Elegance estate bid to £12,000 provisional; 109k mile 2001Y BMW 320iSE 2.2, sold for £8,750; a 102k mile 2001/51 reg BMW 525iSE bid to a derisory £8,300; a 75k mile 2001Y Mitsubishi Galant 2.5 V6 auto, sold for £4,800; while cheapest cheapie had to be a 112k mile 99T Focus 2.0 Ghia estate, sold for £2,750.
However, someone badly wanted an 84k mile 98R LandCruiser Colorado 3.0D GX 7-seater auto raising the bidding £1,000 to get it for £11,100. And VW estates were not cheap at all, with a 19k mile 02 reg Golf TDI PD 130 selling for a serious £10,800 and an 8k mile 03 reg Passat TDI PD 130 selling for £13,800, which is only £1,600 shy of a new Highline from
www.autocarsource.com
Bank Holiday Monday's event at Blackbushe includes General Fleet and Finance, Lex Vehicle Leasing and Bank of Scotland. Plus par exchanges from Inchcape, West London Nissan, Reg Vardy, Harwell, Pendragon, and New Way.
As always the best way to look for a specific car coming up at auction or to pre-check a day's sale is to visit
www.auctionview.co.uk
Brightwells next HUGE WEEKLY 4x4 SALE takes place on Tuesday, 4th May at Leominster Market on the A49 by-pass, Leominster, Herefordshire, start time 11.00am, phone: 01568 611325, website:
www.brightwells.com
Comments