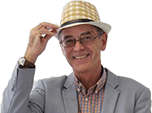 Classics Over Estimate at Auction Today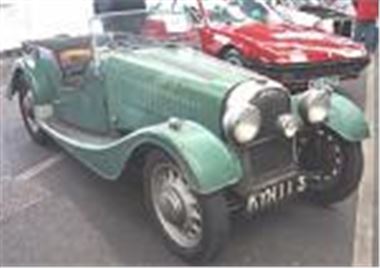 Two of the more interesting lots went way over estimate at BCA's classic auction today.
The 1950 Morgan 4/4 four seater in the photo had been in the hands of one London family for 53 years since new and the owner vividly recalls family holidays to Devon with three children and a large German Shepherd dog aboard. It had been taken off the road in the 1970s and was presented as unearthed, with horsehair stuffing protruding from the drivers seat, and reeking of nostalgia. It charmed one bidder into paying £5,800 plus commission, which was £800 over the high estimate.
The other little piece of history was a 1936 Austin 7 Royal Mail van entered directly by Royal Mail having been used for promotional work. Like the Morgan it "required recommissioning", yet nevertheless romped away to sell for £5,700: £700 over estimate.
Two 24 year old cars: a 1980 Ford Escort Harrier and a 1979 Porsche 924 were presented in outstandingly clean, rust-free condition. The Escort sold for £3,100 and the 924 for £2,700.
Other immediate sellers were a 1989 MGB GT at £1,800, a 1953 Morris Oxford MO at £1,050, a 1935 Austin 10/4 Lichfield at £1,600, a 1933 Austin 7 saloon at £3,900, an ex Devonshire Constabulary 1950 Ford Pilot at £5,700, a 1929 Rolls Royce 20HP boat-tail tourer at £22,000, a 1933 Lagonda 16/80 Tourer restoration project complete with a huge pile of bits at £10,900, a 1936 BSA Scout 4-seat tourer at £6,100, a 1933 Austin 7 2-seat tourer at £4,100. a 1936 Morris 8 at £3,200, an 8,000 mile 1978 MGB roadster at £7,000, a 30,000 mile 1985 Jaguar XJ6 4.2 SIII at £6,250, a LHD 1959 Jaguar XK150 3.8S at £18,250, a 1960 MGA Twin Cam at £13,750, a Ferrari Daytona Spider replica at £11,000, a 1962 Mercedes 300SE Convertible at £5,200 and a 52,000 mile 1988 Mercedes 300SL with hardtop at £11,900.
A pair of interesting Corvettes didn't sell: the 1985 auto bid to £5,100 and the 1993 LT1 6-speed manual to £8,200.
For what's coming up at BCA auctions where and when, link to
www.auctionview.co.uk
Brightwells HUGE 4x4 SALE at Leominster is now WEEKLY. The next is tomorrow, Tuesday 2nd December at Leominster Market on the A49 by-pass, Leominster, Herefordshire, start time 11.00am, phone: 01568 611325, website:
www.brightwells.com
COYS
will hold its traditional Christmas Classic Car Auction on Thursday 4th December at the Royal Horticultural Halls, Vincent Square, London, tel: 020 7584 7444; website
www.coys.co.uk
The automobilia sale starts at 14.00 hrs and the cars srale at 19.00 hrs.
Entries include:-
1904 Darracq Flying 15
1923 Delahaye Type 84N 14-18hp all weather cabriolet
1927 Ford Model T Tourer
1928 Bentley 4.5 litre Super Sports 2-seater
1937 Delahaye 235 Sports two seater
1937 Lagonda LG45 Tourer
1938 Jensen S Type 8 cylinder dual cowl tourer
1951 Le Mans winning Jaguar C-Type
1954 ex-works Triumph TR2 driven by Cherry Osborn
1955 Mercedes Benz 300SL Gullwing
1956 Bentley S1 Continental fastback
1959 AC Ace Bristol
1962 Ferrari 250GT Lusso
1965 Bizzarini 5300GT Series 1
1969 Aston Martin DB6 Vantage Volante
1970 Ford Shelby Mustang GT500
1970 Ferrari 365 GTB/4 Daytona
1971 Ex Autodelta Alfa Romeo Tipo 33 TT3, FIA papers
1971 Lamborghini Miura P400S Jota spyder
1973 Ferrari GTS/4 Daytona spyder (one of seven genuine spyders)
1973 Jaguar E-Type V12 Roadster
1983 15th place Le Mans Porsche 930 Group B
1992 Jaguar XJ220
H&H Classic Auctions
will hold its 10th Anniversary auction at Pavilion Gardens, Buxton on Wednesday 10th December, tel: 01925 730630; website
www.classic-auctions.com
Four vehicles with famous provenance:
1950 DAIMLER DB18 SPECIAL COUPE CONVERTIBLE One of only six ever produced and delivered new in September 1950 to King
George VI. Previous owners include Max Bygraves. Professionally restored by Hoopers at cost of over £80,000.
1978 RANGE ROVER ESTATE First registered to The Royal Mews, Buckingham Palace and used by Lady Diana Spencer. A photocopy in the history file shows the late Princess with the car.
1996 B.M.W. M3 EVOLUTION CONVERTIBLE First owned by David Beckham during his time at Manchester United FC and still retains his personalized plate P10 DRB. A copy of the original bill of sale is included in the history file.
1984/5 AUDI SPORT QUATTRO 'EX WORKS' COUPE The ex Mikkola/Hertz winner and a record holder. Featured in many books,
magazines and even a jigsaw puzzle.
'Barn Discoveries' for restoration:
1931 BENTLEY 4.5 LITRE FOUR SEAT OPEN TOURER Present owner for 35 years & dry stored and unused for 18 years
1934 ROLLS-ROYCE PHANTOM II LIMOUSINE Coachwork by Thrupp & Mabberley. Present owner since 1966.
1935 ROLLS-ROYCE 20/25 SALOON Coachwork by James Young. Present owner since 1968.
These will be joined by a selection of 80 plus cars to include:
1971 Ford Mustang 302 Convertible - Fully prepared for the Inca Trail
1934 Raleigh Safety Seven Open Tourer - Same family ownership since 1946
1937 Riley 12/4 Lynx Sprite 4 Seat Open Tourer - Many years in the Totnes Museum
1926 Rolls-Royce Phantom I Open Tourer - Present owner over 14 years & lovely order
1927 Rolls-Royce Phantom I Open Tourer - Rebuilt in the early 1990s as an open tourer
The Motorcycle sale will also be held on the same day and over 300 lots of wonderful automobilia will be sold the previous day, Tuesday 9th December.
Comments