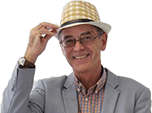 Topless Appearance at Auction Today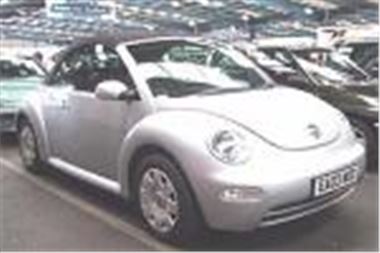 RHD Beetle convertibles have only just arrived. Punters are supposed to be queuing round the block for them, only to be told they can take delivery in the middle of next winter. So how come one showed up at auction today, apparently rejected by its one lady owner. And how did she manage to clock up 2,868 miles since April?
This genuine UK 1.6 with the extras of silver metallic and leather started at £14k, but bids stopped at £15,500 against list of £15,400 before the extras. So no premiums there.
Another new car, though nothing like as hard to get, was a 14k mile 2002/52 reg BMW 735i, strangely enough in the Renault Finance Overlease section. That bid to a cautious £35,500 provisional.
Otherwise, there were the usual ups and downs. A brave new shape 2002/52 Megane 1.4 Dynamique 5-door with 9k miles sold for a serious £8,400. A 25k mile 2001/51 Passat 1.8T SE made a whopping £10,300. A 78K mile 2001Y Peugeot 406 1.8L in nice Diablo red metallic looked dear to me at £4,400. A 46k mile 98S Daewoo Nubira 2.0CDX auto also looked expensive at £2,450. While an old shape 74k 97R Astra 1.4LS 16v was far from cheap at £1,850.
But cheapies there were, if you looked for them. While a 37k mile 2000W Kangoo 1.9RN diesel wasn't at £3,400, an 81k 2000W Kangoo 1.4RXE certainly was at £2,250. A smart 69k mile 95N Rover 200 1.4 SEi in Nightfire with all the kit was cheap as chips at £900. A top spec 52k mile 97P Proton Persona 1.8SEi wouldn't exactly break the bank at £1,000 either. But no one wanted an 82k mile 89G FIAT Panda 750L with pudding in the back wheel arches. Not for £20. Not for £10. Not even for a fiver. Poor little thing.
As for TwoJags 90G Sovereign 4.0 litre, it didn't sell. The car had quite a chequered history having been an Irish import previously registered 'TIW 5331' and re-registered 'G355AVL' in 1996 as a 'five door hatchback'. Its 86k miles were unwarranted. Bidding began at £1,000 and died at £3,000. A lesson for the vendor because a well known national newspaper had previously offered £5,000 for the car.
If there's anything specific you're after at any BCA sale you can look for it on BCA's new pay-for finder service at
www.auctionview.co.uk
(I hope to have a handier link to that soon in the Left-Hand menu bar.) Or go to the main BCA site at
www.bca-europe.com
(skip the intro and click on the British flag).
Note that BCA Blackbushe has switched its Friday LCV sale to Thursdays, so Friday's sale is now 3 halls of cars. Full list of auction centres throughout the country at www.honestjohn.co.uk (go back to the home-page and click on auction directory).
Remember also, Brightwells HUGE 4x4 SALE at Leominster has now gone WEEKLY instead of fortnightly. The next is on Tuesday 1stth July at Leominster Market on the A49 by-pass, Leominster, Herefordshire, phone: 01568 611325, website:
www.brightwells.com
Comments