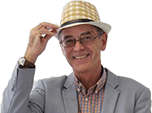 Micra Makes Unscheduled Auction Debut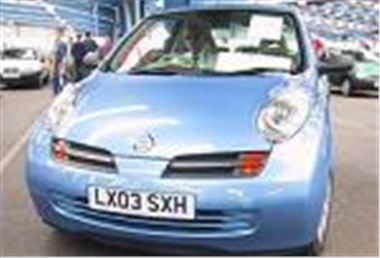 Manufacturers like to control the auction debuts of their cars. It's all part of the black art of setting 'residual values' by making sure new motors don't appear to lose too much value in their first few months.
In this case Nissan needn't have worried. The car was a two month old 03 reg 893 mile 1.2S 3-door auto in its best colour of metallic baby blue. It lists at £9,190 with the paint. No one on the floor could value it, so the auctioneer tried to start it at eight, couldn't, took a bid off the wall of £6,800 and a top but very 'provisional' bid of £7,100.
Rather better 'residually' than a pair of new shape 2002/52 reg Primera 1.8SEs with 8k and 10k miles. They bid to £7,700 and £7,750.
The William Jacks Group appeared to be having a Jaguar clearance, so I was wondering just how low a bright red 2003/52 reg 1,378 mile X Type 2.1V6 Sport manual would bid. After all, these are the models that proved so hard to sell that production had to be cut. But it seems that cutting production has solved the problem, because this one started with a trade bid of £15,000 and went on to sell to a private buyer for a solid £16,500. A 2001/51 8k mile X Type 2.5 Sport manual bid to a strong £16,100; an 02 11k miler, same spec, slipped to £15,850 and an 02 7k mile 3.0SE manual bid to £16,500. A 2003/52 reg 17k mile XK8 4.0 (now the 'old' engine) bid to £28,800, leaving three S Types. The 99V 40k mile 3.0V6 SE auto bid to £13,150, the 2000X 29k mile 3.0V6 auto sold for £15,150. But bargain car had to be an 02 reg 3k mile 2.5 six-speed auto with the new electronic parking brake. Top bid for that car was £18,800.
Oddballs of the day included an 86D 95k mile BMW 635 CSIA with a hunky set of alloys and very little fraying round the edges. That sold for £2,350. Seriously odd was a bright yellow 53,000 mile Hyundai Accent 1.5MVI 3-door, aptly registered 'R222 HEL', which sold to a man with thick spectacles for £1,750. A 58k mile 95N Daewoo Nexia 1.5GLXi found some competitive bidding to jump from £500 to £950. A snatchedback SAAB 9-3 2.0SE convertible, 2000W with 23k not warranted, bid to a Spring-like £13k. A clean 40k mile 2000W Focus 1.8 Zetec 3-dr with climate pack looked cheap at £4,925 until a trader opened the bonnet and found out it had been parked in a flood. A 106k mile 2000W BMW 530D SE auto looked a steal at £11,050. But low bid of the day had to be for an unwarranted mileage 94L Mondeo 2.0GLX 4-door. Just a hundred quid.
If there's anything specific you're after at any BCA sale you can look for it on BCA's new pay-for finder service at
www.auctionview.co.uk
. Or go to the main BCA site at
www.bca-europe.com
(skip the intro and click on the British flag).
Note that BCA Blackbushe has switched its Friday LCV sale to Thursdays, so Friday's sale is now 3 halls of cars. Full list of auction centres throughout the country at www.honestjohn.co.uk (go back to the home-page and click on auction directory).
Remember also, Brightwells HUGE 4x4 SALE at Leominster has now gone WEEKLY instead of fortnightly. The next is on Tuesday 27th May at Leominster Market on the A49 by-pass, Leominster, Herefordshire, phone: 01568 611325, website:
www.brightwells.com
And there are a couple of interesting Classic Car Auctions coming up.
After its hugely successful sale at Olympia in London, H&H is back at Pavilion Gardens, Buxton for its classic car auction on 4th June. Confirmed entries include nine fully restored cars from the estate of the late T.J. Harrison: a 1927 Rolls Royce 20hp Thrupp & Maberly limousine; a 1949 Triumph 2000 Roadster; a 1970 Jaguar E-type 4.2 2+2 coupe; a 1956 Austin A30 Seven Saloon; a 1965 Sunbeam Alpine; a 1958 MG Magnette ZB Saloon; an Austin A40 Farina; a 1964 Vanden Plas 4 litre R Saloon; and a 1936 Morris 8 4-seat open tourer. Other entries include no less than 6 Austin Healeys and an Allard 'M' type Drophead. More at
www.classic-auctions.co.uk
BCA has secured the venue of Brooklands museum for its evening sale from 5 pm on Monday 2nd June. Early entries include a 1922 Blue Label 3.0 litre Bentley with VDP body and factory fitted front brakes (they were optional in 1922); a 1937 Aston Martin 15/98 Bertelli bodied 4 seat tourer; a 1936 Lagonda LG45 tourer; a 1923 Austin 12/5 Harley all-weather coupe; and a 1915 Ford Model T speedster. More on the BCA Classic Auction website at
www.classic-car-auction.co.uk
Comments