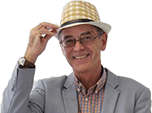 Top Gear and 5th Gear Back Autumn

5th Gear returns to Channel 5 in September to the old Top Gear format with Quentin Willson, Tom Ford, Vicky Butler Henderson, Tiff Needell and Adrian Simpson.

Meanwhile Jeremy Clarkson will be heading up a new-look Top Gear on BBC2 from October, backed up by Richard Hammond from Men & Motors (Twitchy Ritchie) and some bloke who used to do car dealer training videos but is supposed to be very good.

There are vicious rumours about the vast buckets of cash old stick-legs is being paid to spin his tyres again, but we won't be repeating them here.

If the new Top Gear is anything like as good as Clarkson Meets The Neighbours, I can't wait.
Comments