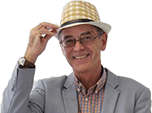 Your Chance to Sponsor HJ's Personal Replies

Since The Telegraph won't pay me to answer readers letters and e-mails personally, there is no reason why someone else shouldn't.

Sponsorship of a personal e-mail from Honest John could consist of a sponsor's message at the top, with a copy of each reply to the sponsor. The numbers are currently between 250 and 350 a week.

Sponsorship of a personal snail-mail reply could include a sponsor's message and leaflet together with the personal reply from Honest John, mailed First Class to the reader. The numbers of these are between 40 and 100 a week.

Obviously, sponsorship will have to cover disimbursements, such as connection bills, paper, envelopes and stamps currently paid by The Daily Telegraph.

To talk content and deals, please e-mail letters@honestjohn.co.uk , heading your e-mail 'Sponsored Replies' so I can see it quickly among the masses of other e-mails in the mail box.
Comments