Cheap 4x4 Van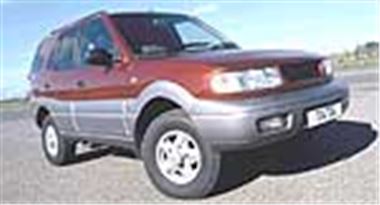 TATA has introduced a 4x4 780kg payload, 5-door van at a price of just £9,995 plus VAT which is reclaimable by VAT registered businesses with a legitimate use for such a vehicle.
Named the Safari Access Van it is based upon the Safari 5-seater and retains the creature comforts of this 5-door off-roader including air-conditioning, power assisted windows/steering/door mirrors, and central locking. On top of this the van comes with a stereo radio/cassette player, folding armrests, alloy wheels and is available in a choice of three metallic paint finishes at no extra cost. It is the only light van to offer such a high standard specification.
Load carrying potential includes 20 sq. ft of floor space and 1.7 cu metres of load space. The load bed has metal runners and a half-height forward bulkhead. As with the Safari passenger 4x4, the rear side doors open to improve load access. A single side-opening rear door is retained.
The Safari Access Van is a genuine off-roader built for difficult conditions. Its electrically controlled 4x4 system transfers drive from two to four-wheels on the move at the flick of a switch and the transmission is equipped with a further set of low gear ratios for dealing with rough terrain.
The engine is a turbocharged and intercooler four-cylinder diesel based on the PSA XUD developing 90PS to provide good load-lugging performance.
Rounding off the package is a comprehensive 3 year/60,000 mile warranty, 6 year anti-perforation guarantee plus one year's free membership of Green Flag Roadside Recovery service.
The full on-the-road price of the Safari Access Van, inclusive of £1,729.30 recoverable VAT, is just £11,725.13. The nearest remotely comparable 4x4 van is the Nissan Terrano II which costs an extra £3,750 plus VAT.
For more information please e-mail
kirk@britnet.co.uk
Comments