BCA CLASSIC CAR AUCTION ON MONDAY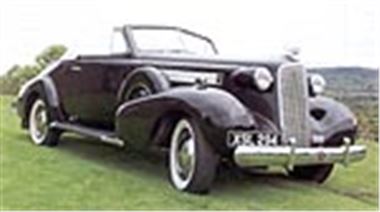 The top entry for BCA's Classic Car Auction at Blackbushe on Monday 3rd December is a 1937 Cadillac V8 Series 60 drop head coupe. This is a very rare export model in right-hand-drive form, that left Detroit for South Africa where it resided until early this year. The car was stored for a considerable part of its life before passing into the hands of a collector who refurbished it. The car was used very sparingly (a recorded mileage of just 12,300 is believed correct) and was subsequently returned to storage. Finished in black with burgundy leather interior trim and cream weather equipment, the car has an imposing presence and is in exceptional condition. With its sleek styling, which evokes the optimism of the post-Depression era, the car retains all its original details and features, including the delightful Art Deco mascot in the style of Lallique. One of the finest American automotive icons of its time, this Cadillac is expected to realise around £40,000.
Other noteworthy entries include a 1972 Morris Minor Royal Mail van with just 70 miles recorded. The Morris is complete with all the usual Post Office Mail van fittings, including Yale locks on the doors, single drivers seat, rubber-link mats, wood partition, GPO fire extinguisher, first-aid kit and body-side mountings for publicity boards. Estimate is up to £7,500 on this true time-warp classic.
FOUR HISTORIC RALLY CARS
A 1965 Ford Cortina Lotus entered from a private collection has been rebuilt to full competition specification, with no expense spared. The fully seam-welded shell is fitted with lightweight panels all round, foam filled fuel tank and twin pumps, Aeroquipe fuel and brake lines throughout and a custom-built wiring harness, with all circuits being individually fused in the cabin. The interior features a full Safety Devices roll cage, competition seats and Willans harnesses, plumbed-in fire extinguisher, rally trip computer and electronic speedometer. The car is powered by a 1761cc full rally engine, built by John Willcox Competition Engines and dyno-tested at 169 BHP. Currently in tarmac specification with Yokohama Asphalt tyres on Alley Cat wheels with Leda suspension struts and springs, a full set of forest tyres on wheels, springs and struts will be supplied with the car. Refer for estimate.
From the same collection and dating from 1970, the Ford Escort MkI Twin-Cam was a Ford development car for the Mexico and RS1600 models and was featured in Ford Sport magazine in December 1970. Between 1994 and 1995 the car was rebuilt around a restored shell and was fully restored by the current owner, a knowledgeable Lotus Twin Cam enthusiast and successful historic rally driver, following his purchase in 1996. There are numerous Works features in its specification, including a full safety cage, competition seats and belts, driving lights and covers, lightweight perspex side and rear windows and a Halda and twin Heure clocks. Refer for estimate.
Two further cars are offered from the same stable, including a second Ford Cortina-Lotus Mk I, in excellent original condition with a factory fitted Webasto sun-roof (estimated around £12,000) and a 1964 Morris Mini Cooper S that has been totally restored to an exceptional standard (estimate is £8,000).
40 YEARS IN STORAGE
An 'as found' 1934 Morris 10/6 Sports special is one of just a handful of these rakish sports tourers known to the Morris Register. Amazingly, the car remained in the same ownership from 1945 to 2001 and it is believed that this particular motor car was exhibited on the Morris stand of the 1934 Olympia Motor Show. The car was first registered in Suffolk on 22nd November 1934 and was purchased by a lady who used it until the outbreak of war when she joined the forces. Following the cessation of hostilities in 1945, the car, known as the Red Lady, passed into the ownership of a gentleman in Hertfordshire and was used by him until 1961. During the past 40 years the car has lain dormant in a heated garage and is offered for sale requiring restoration but in complete and original order throughout. The red coachwork is a little faded but in sound condition, while the engine turns over freely and the hood is remarkably well preserved and useable. This motor car is an exciting discovery and is offered with the RF 60 logbook dating back to 1946, together with a file of documentation including a letter detailing the vehicle's history and a copy of the sales brochure. A fascinating and rewarding project for the enthusiast, this rare Morris is expected to realise around £7,000
Offered for restoration, the 1929 Rolls-Royce Phantom I 40/50hp Tourer by James Young was supplied new to coffee plantation owner, Mrs Edith Dalrymple, in Kenya, and was originally fitted with Thrupp and Maberly Limousine de Ville coachwork. The car returned to England in 1970 and was subsequently stored before being rebodied during the mid-1980s with touring coachwork by James Young. This coachwork actually pre-dates the chassis by some years and is believed to have originally been fitted to a Silver Ghost. The car retains its original 1929 London registration number which was reinstated upon its return. Requiring restoration, the car is believed to be mechanically sound, while the coachwork, hood cover and blue hide upholstery are in serviceable condition. The vehicle is supplied with copies of the specification appertaining to the original Thrupp and Maberly Limousine de Ville coachwork. Estimate is around £15,000.
FULL ENTRY LIST FOR BCA'S CLASSIC CAR AUCTION AT BLACKBUSHE ON MONDAY 3rd DECEMBER, COMMENCING 12.00 NOON:-
LotYearVehicleEstimate
11974Mercedes-Benz 450 SEL£1,750 - £2,250
21972Daimler Sovereign Series I 4.2£1,500 - £1,850
31976Lancia Fulvia Coupé£1,500 - £1,850
41977MG Midget 1500£2,000 - £2,400
51963Morris Minor 1000 Convertible£2,500 - £3,000
61974Triumph GT6 Mk III£2,350 - £2,750
71979Mercedes-Benz 450 SLC£3,250 - £3,750
*8 1978Volkswagen 1200 Karmann Cabriolet£3,850 - £4,500
91973Aston Martin V8 Convertible by Banham£6,000 - £7,000
101967Jaguar Mk 2 3.8£6,000 - £7,500
111935Morris Eight 2-Door Saloon£3,300 - £3,800
121971Triumph Spitfire Mk IV £1,850 - £2,250
131972 MG 'B' GT£2,850 - £3,500
141973Jensen Interceptor III£5,000 - £5,500
151971Bentley 'T' Series£6,000 - £6,500
161975Innocenti Mini Cooper 1300£3,750 - £4,250
171976MG 'B' Roadster£3,500 - £4,000
181969Ford Zodiac Executive Mk IV£3,250 - £3,750
191985Mercedes-Benz 500 SL£12,000 - £14,000
201973Triumph Stag£6,500 - £7,500
211965Ford Cortina-Lotus Rally CarRefer Department
221964Morris Mini Cooper 'S'£6,750 - £8,000
231965Ford Cortina-Lotus Mk I£10,000 - £12,000
241970Ford Escort Mk I 'Twin-Cam' (Work Development Car)Refer Department
251982Bitter SC Coupé£8,500 - £10,000
261969Lotus Elan S4£12,500 - £13,500
271946Alvis TA14 Shooting Brake£6,000 - £7,500
281972Jaguar 'E'-Type Series III Roadster£23,500 - £26,000
*291917Ford Model 'T' Two-Seat Tourer£6,500 - £7,500
30NAMake-a-Wish Charity Lot - Christmas Panto Extravaganza!NA
31ANAAutomobilia - Set of 4 framed F1 Driver Caricatures£90 - £120
32ANAAutomobilia - Limited Edition Print 'Stirling Moss - My Favourite Race'£150 - £175
33ANAAutomobilia - Limited Edition Print 'John Surtees - My Favourite Race'£150 - £175
34ANAAutomobilia - Limited Edition Print ' Mike Hawthorn - 'At Le Mans'£125 - £150
351978Mercedes-Benz 350 SLC 10,000 miles£9,000 - £10,500
361959Austin-Healey 100/6£13,500 - £15,000
371973Triumph Stag£7,750 - £9,000
381965Jaguar 3.4 'S'-Type£7,500 - £8,000
391991Ford GT40 Replica£20,000 - £23,000
401966MG 'B' Roadster£6,750 - £7,500
411934Morris 10/6 Special Sports Requires Restoration£6,000 - £7,000
421953Bentley 'R'-Type Saloon£10,750 - £12,000
431981Mercedes-Benz 380 SL£8,500 - £9,500
44C1972Morris Minor Royal Mail Van 70 miles since newRefer Department
45C1955Bedford Fire Appliance£5,500 - £6,500
46C1972Austin 8cwt Pick-Up£3,850 - £4,750
47Cc1948Austin K8 Recovery Truck£3,000 - £4,000
48C1954Morris Minor ¼-Ton Utility£2,750 - £3,750
49C/s1933Morris Minor Van Replacement Lot£5,000 - £5,500
50C1937Bedford 2-Ton Dropside Lorry£5,500 - £6,000
511927Humber 9/20 Saloon£6,750 - £7,500
521967Triumph TR4A£8,500 - £9,500
531933Austin 10/4 Two-Seat Tourer£3,850 - £4,500
541969MG 'C' Roadster£7,750 - £9,000
551967Jaguar 340£9,000 - £10,000
561977Lotus Eclat£2,400 - £2,800
571982Triumph TR7 Convertible£3,450 - £4,000
581988Porsche 911 Turbo Cabriolet£22,000 - £24,000
591929Rolls-Royce Phantom I 40/50hp Tourer by James Young Requires Restoration £14,500 - £16,500
601978Aston Martin V8£12,000 - £13,500
611968Jaguar 'E'-Type 4.2 Roadster£20,000 - £22,000
621933Austin Light 12/4 Eton Two-Seat Tourer£7,000 - £8,000
631981AC 3000 ME£6,500 - £7,000
641974Triumph Stag£3,250 - £3,750
*651987Porsche 911 Carrera Targa£10,500 - £11,500
661937Cadillac Series 60 V8 Convertible Coupé£36,000 - £42,000
671972Rover 3.5 Coupé£3,750 - £4,250
681959Triumph TR3A 40,800 miles£11,000 - £12,500
691965Jaguar 3.4 'S'-Type£10,000 - £12,000
701979Rolls-Royce Silver Shadow II£7,000 - £8,000
711966Triumph TR4A£5,750 - £6,250
721972Alfa-Romeo Spider£5,250 - £6,000
731966Mercedes-Benz 300 SE Coupé£7,000 - £8,000
741974Triumph Stag Fsh 31,000 miles£8,000 - £8,750
751979MG 'B' Roadster Fsh 21,400 miles£5,750 - £6,500
761959Vauxhall Victor 'F' Series£2,000 - £2,500
771972Triumph TR6£5,000 - £5,750
*781968Dodge Charger£8,750 - £10,000
791972MG Midget Mk III£3,850 - £4,500
801968Morris Minor 1000 Convertible£2,500 - £3,000
811979Lomax 424 Three-Wheeler (1979 Donor Vehicle)£1,250 - £1,600
821955Ford Zephyr Mk I No reserve£2,250 - £2,750
831960MG 'A' 1600 Roadster£10,500 - £11,500
841973Triumph GT6 Mk III£4,250 - £5,000
*851972Pontiac Firebird£3,750 - £4,500
BCA's Monday 3rd December Classic & Historic sale commences at the Blackbushe auction centre at 12.00 noon, with viewing on the morning of the sale (Monday, 3rd December) and on Sunday, 2nd December from 1.00 to 4.00 pm. Entrance is by catalogue only, priced at £15.00 (admits two). The Blackbushe auction centre is located on the A30 between Camberley and Basingstoke. For full details of the sale, please contact the Classic & Historic Automobile Division Information Helpline on 01252 877317 or email
bcahistoric@bca-group.com
. Catalogue details and illustrations are displayed on the BCA site at
www.classic-car-auction.co.uk
.
Next year's programme of BCA Classic Car Auctions
Monday 11th February Motor Cars, 1pm Blackbushe
Monday 8th April Motor Cars 1pm, Motorcycles 4:30pm Bridgwater
Monday 17th June Motor Cars 6pm Blackbushe
Monday 5th August Motorcycles 4:30pm, Motor Cars 6pm Bridgwater
Monday 7th October Motor Cars 1pm Blackbushe
Monday 2nd December Motor Cars 1pm Bridgwater
Comments