Auction Prices Bottom Out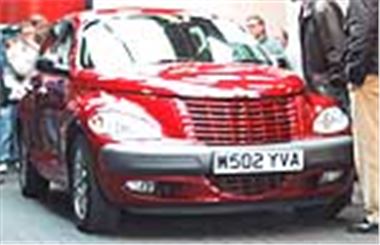 Whatever state the World may be in, auction prices have stuck to tradition and bottomed out for the last week of November. The big supersites have bought and are still buying, but prices are now rising in anticipation of a flood of punters in the new year.
The 27,000 mile July 2000W PT Cruiser Limited in the photo must have been one of the first on the UK market, so may well have originally sold at a premium. I reckoned it would make £12,000, but bidding was strong and it was snapped up by the GTC for a strong £12,650.
It wasn't the only unusual car at BCA Blackbushe today. Last week I spotted a Y reg silver Honda Insight petrol-electric hybrid with what appeared to be a flat set of batteries. Today a 7,000 mile W reg actually made it past the block where it bit to a cautious £10,050.
Bargains were few and far between. A new shape 92,000 mile 98S Astra 1.7TD Envoy estate started at a low £2,000 to reach a provisional £3,100. A 20,000 mile 98S Corsa 1.0 Merit bid failed to sell at £2,500. But the hammer came down at £2,875 for a new shape 36,000 mile 98R Clio 1.2.
A 98S Toyota Picnic at £4,150 and a 97R BMW 318i at £5,550 both looked cheap until you accounted for the mileages of 145,000 and 125,000. A 96,000 mile 98S Golf Mk IV GT TDI bid to £7,050 and a 77,000 mile 99T Golf 1.8GTi bid to £6,950. A 47,000 mile new shape Mercedes S320L looked a bit off the boil at a provisional £30,900. But £4,750 was just plain dear for a scruffy Flash Red 49,000 mile pre-facelift 99T Polo L diesel and £16,000 was huge money for a 44,000 mile 99V BMW 523iSE auto.
To my mind, buy of the day had to be a 63,000 mile 98S Merc C200 Classic facelift model with aircon at £7,325. The message is, if you want to snap up a winter auction bargain, don't delay.
For information of upcoming BCA auctions, visit
www.bca-auctions.co.uk
Full list of auction centres throughout the country at www.honestjohn.co.uk (go back to the home-page and click on auction directory).
Classic Car Sale in The North
Entries for the H&H Classic Car Auction at Pavilion Gardens, Buxton on Wednesday 28th November include:-
1955 Ford Thunderbird
1966 Ford Thunderbird convertible with continental kit in Gold
1966 Ford Thunderbird convertible in metallic blue
1959 Ferrari 250GT Pininfarina coupe
1935 Bentley 3.5 litre sports saloon
1955 Aston Martin DB Mk III
1948 MG TC
1964 Mercedes 220SEB coupe
1980 Ferrari BB512
1966 Aston Martin DB6
1981 Porsche 924 Carrera GTS
1950 Daimler DB 18 Empress saloon
1926 Morris Cowley flatnose 2-seat tourer with dickey
1926 Pierce Arrow Model 80 Opera coupe
1972 Ferrari Dino 246GT
1961 Bentley S2 saloon
1967 Alfa 105 Series Bertone GT in race trim
1994 Dax GT40 replica
1963 Bristol 407
1966 Jaguar 3.4 S-Type with wire wheels and 55k miles
1985 Audi Quattro coupe
1983 Daimler Sovereign 4.2 SIII
1968 Lotus Elan S3 FHC (LHD)
1936 Standard Nine de-luxe saloon
1980 Mini Clubman estate
1973 Jaguar XJ12L S1
1971 Jaguar E Type SIII Coupe manual
1980 Rolls Royce Silver Shadow II
1987 Maserati Biturbo Spyder
1973 Bristol 411
1973 MGBGT
1973 Triumph GT6 Mk III
1985 Caterham Seven Super Sprint
1962 Morris Mini Cooper 997cc
1964 Jaguar E Type 3.8 FHC
1962 Jaguar 3.4 Mk II (29k miles)
1971 Jensen Interceptor Mk II
1967 Morris Minor Traveller
1952 Mercedes Benz 220B cabriolet
1925 Crossley 15/50 3-door tourer
1957 Austin Healey 100/6 BN4 2+2
1971 Rover P6 2000SC
1964 Mercedes Benz 220SEB coupe
1975 Triumph TR6
1959 Bentley S1
1969 Mercedes Benz 300SEL 6.3
1974 MGBGT V8
1968 Mercedes Benz 280SL
1981 De Tomaso Deauville saloon
1969 Mercedes Benz 280SE convertible
1960 Austin Healey Sprite 'Frogeye'
1978 Mercedes Benz 350SL
1959 Ashley Tornado coupe (believed unique)
1973 Jaguar E Type SIII coupe automatic (80k)
1968 MGC roadster
1981 Aston Martin Lagonda
1968 Daimler 250 V8 saloon
1938 Humber Snipe Imperial Thrupp & Maberly sports saloon
1966 MGB roadster
1970 Jenson Interceptor Mk III SP
1956 Morgan Plus 4 four seater
1976 Ferrari 308GT4
1924 Morris Cowley bullnose two-seater + dickey
1988 Mercedes Benz 300SL
1980 Rolls Royce Silver Shadow II
1947 Sunbeam Talbot 10 four seater tourer
1974 Triumph Stag
1928 Rolls Royce 20HP Thrupp & Maberly limousine
1973 Aston Martin V8
There will also be an auction of Automobila the day before the car auction, on Tuesday 27th November. More at
www.classic-auctions.co.uk
, e-mail:
info@classic-auctions.coo.uk
or telephone 01925 730630
Next Friday I will list the entries for BCA's next Classic Car auction at Blackbushe on Monday 3rd December. If you want them now, go to
www.classic-car-auction.co.uk
, e-mail
bcahistoric@bca-group.com
or phone 01252 877317
Comments