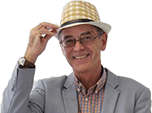 Smarter Sedona for 2002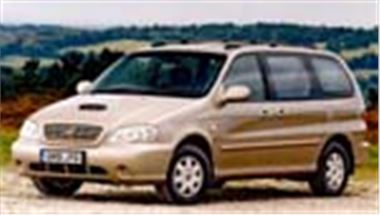 Kia has made some useful improvements to its big, budget-priced and hugely successful 7 seater Sedona MPV.
Arriving in the UK in November, 2002 model year Sedonas now have easily removable rear seats, a more powerful diesel engine and numerous detail enhancements. They are distinguished from outside by a revised front grille, restyled bonnet air intake on the diesel, wider front bumpers, protective step plate on the rear bumper and new four level headlamps.
Dimensions are: length 4,890mm (16 ft 1in); width 1,900mm (6 ft 3in); height (including roof rails): 1,417mm (5ft 11in). Luggage space is 297mm long by a minimum 1,240mm wide by 1,040 high, extending to 1,105mm long with the third row of seats removed.
The 2,902cc four cylinder twin-cam 16 valve diesel now offers 143bhp at 3,800rpm and 229lb ft (310Nm) torque at 2,000rpm. Zero to 60mph of the five-speed manual version is quoted at 15.2 seconds, top speed 104mph, combined fuel consumption 34.4mpg and C02 output 217g/km. Figures for the diesel four-speed automatic are: 16.2 seconds, 104mph, 32.2mpg and 235g/km. Cabin noise levels from this engine have been reduced by between 2 and 3dB.
The 2,497cc quad cam V6 provides 147bhp at 5,600rpm and 165lb ft (224Nm) torque at 4,000rpm. Zero to 60mph of the five-speed manual V6 is quoted at 14.2 seconds, top speed 109mph, combined fuel consumption 25.7mpg and C02 output 270g/km. Figures for the V6 four-speed automatic are: 17.4 seconds, 106mph, 22.8mpg and 293g/km. This engine complies with Euro III emission regulations.
Seating remains two in the front, two 'captain's chairs' (with ISOFIX child seat anchors) in the centre and a three-seater 50/50 split folding bench in the rear. Second and third row seats slide backwards and forwards and are also now easily removable. Crash safety has been improved by reinforced front pillars, strengthened front bumper and an additional front subframe. Standard equipment on all models includes twin sliding side doors; remote control keyless entry; driver and passenger airbags; electric front windows; driver's seat lumbar support; height-adjustable armrests; cup holders for all three rows of seats and solar glass for screen and front side windows.
In addition, LX models have ABS with EBD; air-conditioning; tinted rear glass; seatback shopping hooks; chrome door handles; and aircraft style seatback tables. The specification of SE models is further enhanced by leather upholstery; leather covered steering wheel; alloy wheels; electric folding door mirrors; electric eight-way adjustable driver's seat; CD player; rain sensing wipers; and electrically operated rear quarter windows.
List Prices, on the road and including the Kia three year or 60,000 mile warranty are:- Sedona 2.5 V6 L manual: £13,995; 2.9CRDi L manual: £14,250; 2.9CRDi L automatic: £15,100; 2.5 V6 LX manual: £15,995; 2.9 CRDi LX manual: £16,250; 2.9 CRDi LX automatic: £17,100; 2.9 CRDi SE manual: £18,250; 2.5 V6 SE automatic: £18,845; 2.9 CRDi SE automatic: £19,100.
More at
www.kia.co.uk
Comments