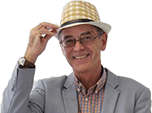 Rage Concern: Wrong Answer

My editors have substituted their words for mine under the sub-head 'Rage Concern' in today's Honest John column. This is always an editor's prerogative which a freelance contributor has to accept. But since it's my face at the top of the column I reserve the right to provide my original answer in a media over which I have some control. The reader's unedited e-mail and my unedited reply are as follows:-

David Rudnick ('Road Rage 2nd June) bemoans in the fact that in the UK there's no law against using mobile phones when driving, nor will the UK government consider implementing such a law. About six months ago there was a lot of publicity in both Spanish and German magazines down here in Spain about new EU-wide Laws passed banning the use of mobile phones when driving: I remember examples were given of the fines one would be liable to pay if caught phoning on the move not only in many EU countries but also in former Eastblock countries adjoining the EU. I had the impression that such a law WAS binding on all EU member states, including the United Kingdom. Of course the effect on the Spanish driver has been what one would expect. Formerly, when following some SEAT driven at 140 kph along a twisting country road, the only way to know the driver had received a phone call would be if you saw his hand/arm raised towards his head - certainly the speed didn't change. Nowadays, as soon as the phone rings in the car ahead you can tell because he/she slams the brakes on and skids to a halt in a cloud of dust at the side of the road to avoid VERY LARGE ON-THE-SPOT FINES. Despite the fact I support the new law, I've had seen more near-misses since the law was implemented than before. Incidentally you might remind driving readers coming to Spain from England that unlike the UK where even one warning triangle isn't required by law, here in Spain TWO triangles have to be carried at all times. And so does all the original (not copies) paperwork associated with the vehicle, from driver's licence and insurance certificate to ownership papers. Failure to carry these gets your car impounded - and with ETA up to it's nasty tricks, there are many more roadside checks.

R.F. via e-mail

Andrew Bairsto, a regular 'Backroomer' from Dresden questions research on mobile phone deaths. There is actually no evidence at all that hands-free mobile phones have caused a single accident, yet organisations like ROSPA are campaigning to ban them. This is like banning business and banning commerce. No mention of banning cigarette smoking in cars, which is far more dangerous than any mobile phone ever was, but doesn't come with the evidence of an itemised bill which shows call times.
Comments