You'll soon be fined for touching your phone while driving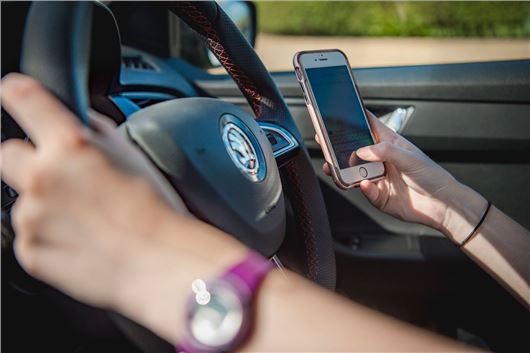 Published 01 November 2019
The Government has announced plans to close a loophole which allows drivers to use their phones to take pictures or browse the internet when behind the wheel.
Currently, motorists can be given an on-the-spot fine of £200 and six penalty points if they're caught using a hand-held phone while driving. However, drivers have successfully appealed that the laws - introduced in 2003 - shouldn't apply if the phone isn't being used to communicate.
>>Illegal mobile phone use when driving on the rise
Ramsey Barreto was found guilty earlier this year of using his phone to film a crash while driving in North London. He later won an appeal after his solicitors argued that he wasn't using the device to communicate.
Now the Government is planning to close this loophole, meaning you could be hit with a fine for using a smartphone while driving - including browsing music playlists, using navigation apps or taking pictures.
"We recognise that staying in touch with the world while travelling is an essential part of modern day life but we are also committed to making our roads safe," said transport secretary Grant Shapps.
"Drivers who use a hand-held mobile phone are hindering their ability to spot hazards and react in time – putting people's lives at risk."
A review on mobile phone laws is being pushed forward with further proposals expected to be in place by next spring, making the offence clearer for drivers and police forces.
While the current penalties for hand-held mobile phone use are being considered, the Department for Transport says there are no plans to ban hands-free phone use.
Comments
Author

Andrew Brady
Latest