Inventor threatened with jail for inflatable speed camera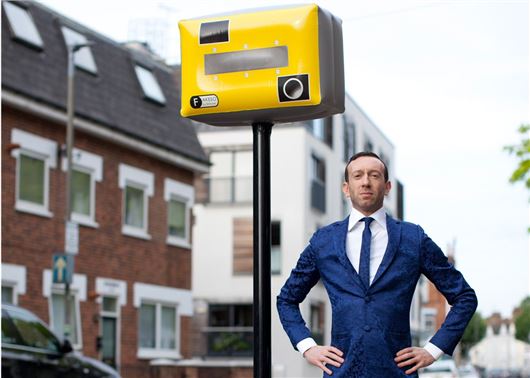 Published 22 June 2018
A former Big Brother producer who invented an inflatable speed camera in a bid to slow down motorists has been warned that he could face seven years in jail if it causes a crash.
Shed Simove planned to sell the fake speed cameras - named the Fakeso - for £30 each after commissioning a factory in China to produce them. However, the police has warned him that he could be in contravention of section 22A of the Road Traffic Act 1988 (causing danger to other road users) if his bogus cameras caused a crash - and this carries a maximum prison sentence of seven years.
Simove told newspapers: "I'm gutted. I really thought I'd created a product that could help everyone by reducing speeding on Britain's roads. I just want to encourage safe driving. The last thing I want is to cause an accident."
Other concerns raised by the police in an email to Simove included a warning that they might contravene planning regulations, while if they did cause a crash he'd also risk being sued by victims.
A number of similar tactics used to slow down motorists have made the news recently - including 'speed gun gran' Jean Brooks who used a hairdryer as an imitation speed gun.
Brooks from Hucknall, Nottinghamshire, would regularly stand outside her house and point her hair dryer at passing traffic, claiming it slowed drivers down and improved road safety.
In Worcestershire, a resident went to the extraordinary length of building his own fake speed camera out of drain pipe, ply wood and a mirrored beer mat. Carpenter Jim Dyke built the wooden imitation box because he was so fed up of drivers speeding at up to 60mph past his home.
Figures released in 2017 revealed that the number of traffic officers fell by nearly a third over the previous 10 years.
Picture credit: Samuel Ridge
Comments
Author

Andrew Brady
Latest